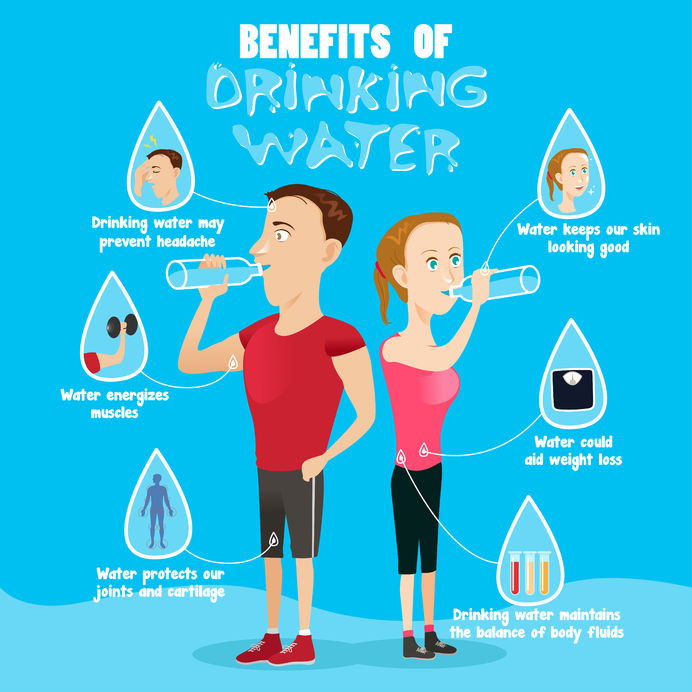 4 REASONS TO DRINK MORE WATER
We've all heard it many a time: that drinking more water and staying well hydrated is key to optimum health.
Almost all of us know that we should drink more water, but few of us actually go that extra mile and actually do it. Instead, we live in a state of dehydration and/or prioritise other less hydrating drinks such as tea, coffee, and alcohol. I'm sure you can relate.
One of the reasons you may be neglecting to increase your water intake is because whilst you 'know' you should drink more, you don't really know 'why'. Sometimes knowing the 'why' helps give us the jolt to fill up that glass/water bottle more often and make it a habit.
So to help you I'm going to share 4 key reasons why you should increase your water intake:
Helps Boost Your Mood
I'm sure you're like me, and you much prefer to be in top form. No one enjoys feeling grumpy, and a lack of water could be to blame.
While you may be quick to pass off your bad mood to external factors, there could be physiological reasons as to why you're feeling blue. Lack of water being one of them.
It's been shown that dehydration may impact your mood, causing irritability and a general sense of lack of motivation. And it doesn't take much! As little as 2-4% dehydration can cause these effects. So drink up!
Helps Reduce Joint Pain
Joint soreness is not pleasant at all because everything you do in daily life uses and impacts your joints.
One thing that can help a lot is ensuring your drinking enough water to help lubricate and cushion your joints and cartilage.
Helps Decrease Risk of Headaches
Headaches are a common problem. Many cases of headaches (not all) are caused by dehydration, and it's such an easy, cheap fix instead of reaching for the Nurofen. Simply drink more water!
Word of caution though – not all fluids will solve the problem. If you drink caffeine or indeed any fluids that contain caffeine and/or high volumes of sugar, you may actually make your headache worse so avoid these drinks. Water is the best solution as it's natural to the body.
Helps Improve Physical Performance
Before you train (as well as during of course) you need to be already well hydrated. If you go into your workout in a dehydrated state, you're already on a back foot before you even hit the gym floor. One of the most important factors in getting the most out of your session is to be already hydrated and maintain this. Your muscles are 75% water and even a little dehydration can greatly impact their performance.
If you find it difficult to drink plain water and don't like the bland taste you could flavour it with a squeeze of lemon or lime. Also check out these 2 simple, delicious recipes:
CUCUMBER MINT INFUSED WATER
WATERMELON HYDRATOR
Adding a little flavour will definitely make it easier to hit your water intake for the day.
Hopefully, those 4 reasons have convinced you to increase your water and make it a priority. It's also great for detoxifying, good for your hair skin and nails and it will also help you lose weight as it helps suppress appetite. Lots of benefits. I hope I've convinced you.
Love Gaynor x