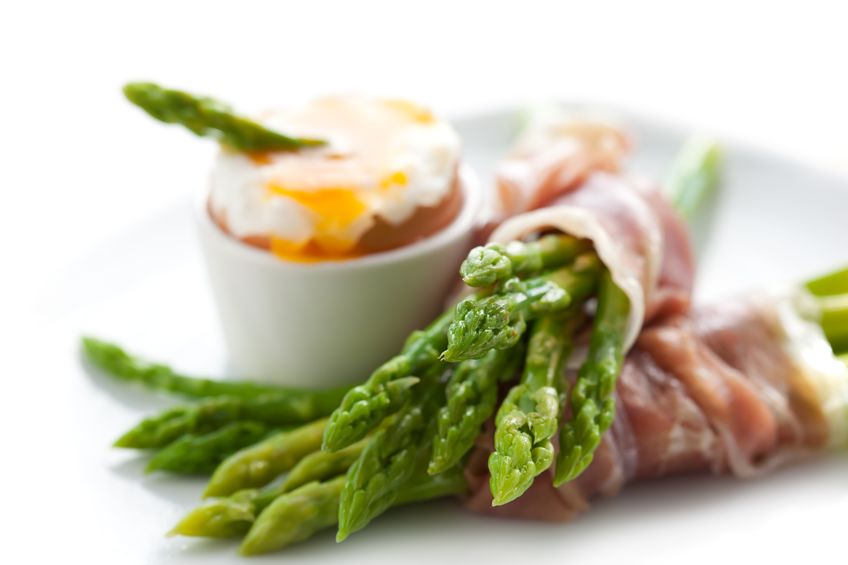 A TOP BREAKFAST FOR FAT LOSS – ASPARAGUS DIPPERS
I consider breakfast to be the most important meal of the day. As the saying goes "eat breakfast like a king, lunch like a prince and dinner like a pauper".
Making a good choice when it comes to the first meal of the day is easier said than done when there's so many bad choices available.
I often recommend to my lovely B-Fit clients to start the day with a high protein, high fat (good fats of course!) breakfast as it improves satiety, focus, and productivity for the day ahead.
Nevertheless, it's all about personal preference so it's good to try a variety of meals to see what works best for your body.
These asparagus dippers are delicious and won't derail your diet whilst giving you a superb start to the day. You also don't need to be a Gordon Ramsay to make this. It's so easy and quick to make and switches things up a bit from plain old eggs.
You probably recall dipping soldiers in your soft boiled eggs as a child. Well, this recipe is a low carb/high protein twist on this classic where we use a combo of meat and vegetables instead of bread. You could use a variety of meats and vegetables, but my personal favourite is the classic culinary combination of parma ham and asparagus. Give it a go and let me know how you get on.
INGREDIENTS
75g parma ham
2 eggs soft boiled
150g asparagus
1 tsp olive oil
½ tsp cracked black pepper
¼ tsp sea salt
Handful fresh spinach
INSTRUCTIONS
Preheat oven 180c
Take 2-3 stems asparagus, wrap with 1 slice parma ham
Do this until you've used up all ingredients
Add to baking tray
Drizzle with olive oil
Season with sea salt and black pepper
Roast in the oven for 10 mins
Meanwhile, boil eggs for 6 mins until soft in the centre
Serve with a side of spinach