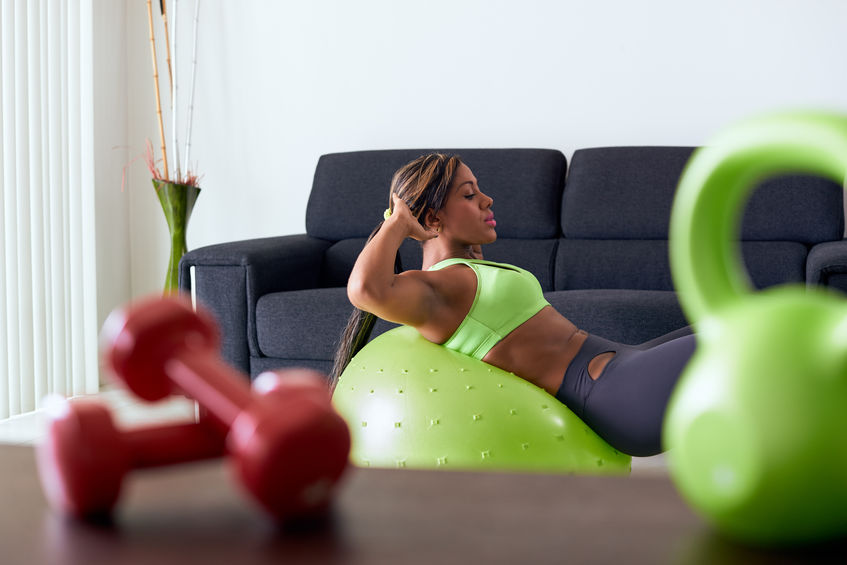 9 AMAZING BENEFITS OF WEIGHT TRAINING WOMEN SHOULD KNOW
For a lot of women the term 'weight training' conjures up images of bulky bodybuilders, manly looking women, intimidating gym environments, and heavy weights. I get it, and I do understand.
Today, it's widely accepted that weight training is an essential part of any well-balanced exercise program not just for bodybuilders, but the everyday male and female, the young and more mature as well as those with injuries.
Historically, females have been deterred from lifting weights because they believed that it would make them bulky. Thankfully with education times are changing and women are now using strength training to achieve the body and health they want.
If you haven't weight trained before I strongly encourage you to give it a go. You'll never look back as these 9 benefits clearly illustrate:
LOSE WEIGHT, IMPROVE TONE AND SCULPT THE BODY SHAPE YOU WANT
Weight training is a proven way to achieve sustainable fat loss, improve tone and body shape.
As well as burning calories during actual exercise, it also helps increase your overall metabolic rate enabling your body to burn more calories around the clock. How does it do this? By maintaining existing muscle, and building new. The more muscle you have, the more calories you burn. Simple as that.
Weight training is also an incredible tool that you can use to shape your body with because it allows you to stop focusing on 'losing weight' and to start building the body shape you want. Let me explain!
You cannot spot fat reduce i.e. remove fat from specific areas of your body. But what you can do is use exercise to enhance and improve specific muscles while reducing body fat in general by eating a balanced healthy diet and being active. By doing so, your fat levels will reduce, and you'll then unveil a body shape that's sculpted, toned and tight.
If you want to make specific changes to how you look, then the type of training you do needs to mirror this. For example, if your goal is toned capped shoulders, then you need to be performing exercises for your deltoids (aka shoulders) like shoulder presses and lateral raises.
READ HOW VICKY USED WEIGHT TRAINING AND DRASTICALLY IMPROVED HER MUSCLE TONE
BOOST YOUR MOOD AND REDUCE STRESS
One thing I notice all the time is that after exercise all my clients feel mentally better. Weight training plays a significant part in this.
Examples of good stress are enjoying the excitement at a music festival, travelling or paragliding. But bad stress is things like relationship problems, pressures at work, money issues and so on. It tips you over and you're constantly in a state of anxiety and panic. In the short term you may be able to effectively handle this but long term it leads to raised cortisol, potential adrenal fatigue and a host of other stress-related health issues.
Maintaining a consistent weight training routine will provide a release valve and leave you feeling mentally stronger, in control and happier. Some people do yoga. Some meditate. Some go for a walk in nature to unwind. I'd strongly encourage you to consider weight training as a viable option in here too. It's one of the best anti-depressants around due to the mood-boosting endorphins released.
WANT HELP ACTIVATING YOUR BODIES NATURAL OPIATES THROUGH EXERCISE? GET IN TOUCH WITH ME HERE TO BOOK YOUR FREE B-FIT SESSION
IMPROVE YOUR POSTURE
Proper weight training can help with postural issues and pelvic floor strength which are important considerations before, during and after pregnancy.
NEED HELP IMPROVING YOUR POSTURE? BOOK IN WITH B-FITS SPORTS THERAPIST & MASTER TRAINER GUY EDWARDS WHO'S A GENIUS AT DEALING WITH POSTURAL AND MOVEMENT ISSUES
INCREASE YOUR ENERGY
Weight training makes your heart pump. It releases endorphins, encourages you to eat well and involves making progressive improvements through goal setting, which is bound to put a spring in your step.
It will help you sleep in a physical sense, as your body shuts down to repair itself. And it will improve the quality of your sleep as you'll be lower on stress as mentioned earlier.
You'll also notice that weight training has a 'domino-like' effect on other factors that affect your energy levels. For example, if you see progress in the gym, your physical appearance or are just riding the endorphin-wave of a challenging workout, then you're more likely to make positive nutrition decisions and simply feel better about yourself.
IMPROVE YOUR SEX LIFE
This is often over looked but things between the sheets will improve.
If you think about it, sex is at least 'in part' a physical activity. A side effect of weight training is that you'll be physically stronger, you'll get out of breath less easily because you're fitter, and you'll have more energy in general. You'll also be more confident about the way your body looks, and so be more comfortable when naked.
IMPROVE YOUR BONE DENSITY
As we get older, our bone density gradually decreases, especially in women. This, in turn, makes us more prone to fractures, and osteoporosis. Weight training has been shown to increase bone density/mass.
YOU'LL EAT BETTER
Most of us think that to lose weight or maintain what we've achieved we must eat less and abstain from things we'd like to eat. In the long term, this approach is destined to fail. You'll inevitably give in and fall off the wagon.
I recommend basing your diet around protein-rich foods like meat, fish, pulses, and eggs, which help to build and repair your muscles after challenging workouts.
Protein is also very filling and keeps you full, so it's unlikely you'll overeat, especially when you're also including a serving of fibre rich vegetables with each meal.
The key lesson is to focus on eating the right types of nutritionally dense foods, at the right times.
RETAIN YOUR MUSCLE
With age comes muscle wastage. After the age of 30, the average person loses 2½ kg of muscle every 10 years. This reduces our ability to burn calories and if not managed appropriately leads to weight gain hence the coined phrase "middle age spread".
Weight training is proven to preserve existing muscle and build new. It's important for all of us to lift, but it becomes even more important the older we get as it not only effects our weight/how we look but also our strength, balance, and coordination.
PREVENT INJURIES AND DISEASE
As you build quality lean muscle your strength will increase, and so will your ligaments and tendons. This will improve your flexibility, and you'll be less susceptible to muscle damage, aches, and pains.
Other health benefits of weight training include an increase in insulin sensitivity which can reduce the risk of type 2 diabetes, and it can also help to keep blood pressure within a healthy range.
No matter what life stage your at, no matter what your goal is this is something you seriously need to incorporate. It plays a major role in your overall health and wellbeing.
ARRANGE YOUR FREE B-FIT CONSULTATION AND START YOUR TRANSFORMATION TODAY
Love Gaynor x