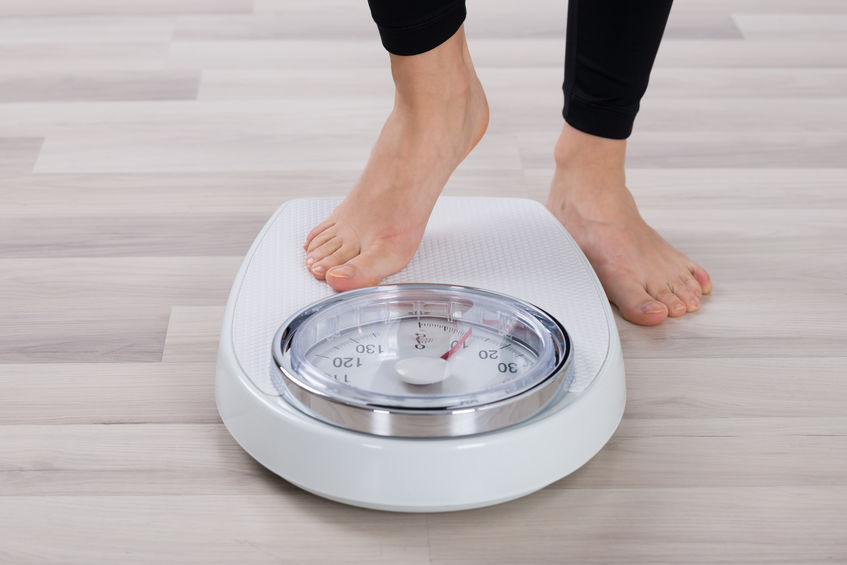 TAKE THE SCALES WITH A PINCH OF SALT
Bodyweight isn't everything.
Too many women are fixated on the number on the scale. I want to encourage you to consider other factors and how you look and feel.
Take my lovely client Gemma who did my 21 DAY FAT LOSS PLAN. She dropped a dress size, increased lean muscle, lost inches in all the right places BUT put 2lbs on! this 2lbs was pure muscle and muscle weighs more than fat hence the scales went up.
As her trainer, I wasn't concerned one iota because there can be an array of factors that influence the scales. Think about it, the weather could be warmer and you're carrying more water. Maybe you've been adding more salt to your food which stores water. Or what about your monthly cycle and female hormones which fluctuate like the weather again causing your body to hold water. The bottom line is the scales can be incredibly misleading.
In fact, Joe Wicks AKA the Body Coach hit the nail on the head. He nicknamed the scales the "sad step" and said "One of the biggest challenges when it comes to health and fitness is motivation and there's no bigger motivational killer than scales. I call scales the 'sad step' because they will almost always leave you feeling disappointed."
If you feel that the scales have a negative effect on you then it's time to ditch them. Instead, I strongly encourage you to use other more positive and effective ways to measure progress. Here's some ideas:
Do you feel stronger?
Do you feel fitter?
Do you feel more flexible?
Do you generally feel better?
Do you feel more confident?
Do you feel healthier?
Has your energy improved?
Has your mood improved?
Are you sleeping better?
Has your digestion improved?
Does your skin feel tighter, clearer?
Do you feel less bloated?
Has your immune system improved?
Have you lost inches and/or dropped a dress size?
Can you see improvements from your before/after photos? e.g. more definition, change in shape, more tone
Noticed any symptoms regressing and/or disappearing? e.g. PMS, IBS, cravings
I could go on and on but the key takeaway is that progress comes in all forms!
START YOUR BODY TRANSFORMATION JOURNEY TODAY. CLICK HERE TO SEE ALL B-FITS PACKAGES
Today women are obsessed with the scales way too much. Besides potentially being misleading it can be incredibly unhealthy mentally too.
If you're stuck in a rut with your training, nutrition and not seeing results then GET IN TOUCH with me about my personal training plans, group programmes, and online options.
I'd love to help.
Thanks Gaynor x