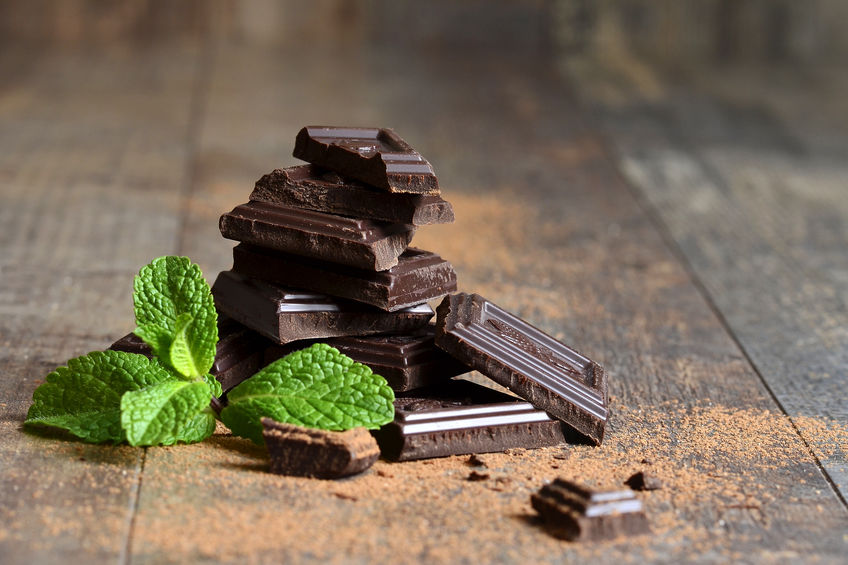 8 PROVEN HEALTH BENEFITS OF DARK CHOCOLATE
Let's be honest most of us like a little bit of chocolate now and again.
The good news is that the health benefits of dark chocolate, in moderation, of course, are scientifically proven. Studies show that it's very rich in beneficial antioxidants, polyphenols and nutrients that can positively affect your health and protect you against disease.
It's particularly dark chocolate (not the sugary sort) that wins in the health stakes because it contains a higher concentration of cacao seeds than milk or white chocolate.
Another added benefit of eating dark chocolate is that it definitely helps control sweet cravings. If you find that you often crave sweet food then dark chocolate can help. It's also worth considering how much good quality fat you consume because too low a fat intake is a very common cause of poor energy and bad sugar cravings.
Below I've outlined the 8 proven health benefits of dark chocolate plus some simple tips on how to choose the best chocolate!
1. NUTRIENT DENSE
A high-quality dark chocolate with a high cocoa content is nutritious. It contains a decent amount of soluble fibre and is loaded with minerals such as iron, magnesium, copper, and manganese. It also contains potassium, phosphorus, zinc and selenium.
This does not mean you eat loads of chocolate regularly as chocolate still comes with a reasonably high calorific content, so moderation is the key!
The fatty acid profile of dark chocolate is also excellent. The fats are mostly saturated and monounsaturated, with small amounts of polyunsaturated fat.
2. ANTIOXIDANT RICH
Foods high in anti oxidants such as dark chocolate are very important in protecting our health from free radical damage.
It's loaded with organic compounds that are biologically active and function as antioxidants. These include polyphenols, flavanols and catechins.
3. MAY IMPROVE BLOOD FLOW & LOWER BLOOD PRESSURE
The flavanols in dark chocolate can stimulate the cells in the lining of the arteries, to produce nitric oxide. One of the functions of nitric oxide is to send signals to the arteries to relax, which hence lowers the resistance to blood flow and therefore may reduce blood pressure and so the risk of heart attacks and strokes.
4. INCREASES HDL & PROTECTS LDL FROM OXIDATION
Dark chocolate improves several important risk factors for disease.
It lowers the susceptibility of LDL (bad cholesterol) to oxidative damage while increasing HDL (good cholesterol). Oxidized LDL means that the LDL has reacted with free radicals. This makes LDL reactive and capable of damaging other tissues, such as the lining of the arteries in your heart. A high-quality dark chocolate lowers oxidized LDL because it contains powerful antioxidants that protect lipoproteins against oxidative damage.
Dark chocolate can also reduce insulin resistance, which is another common risk factor for many diseases like heart disease and diabetes.
5. MAY REDUCE HEART DISEASE
As said earlier the compounds in dark chocolate appear to be highly protective against the oxidation of LDL (bad cholesterol). In the long term, this should cause less cholesterol to lodge and harden in the arteries, resulting in a lower risk of heart disease.
This in conjunction with better blood flow and lower blood pressure as mentioned above all make it plausible that eating dark chocolate may reduce the risk of heart disease.
6. MAY PROTECT SKIN FROM SUN DAMAGE
Studies show that the flavanols in dark chocolate may improve blood flow to the skin, increase skin density and hydration and so protect it from sun damage and ageing.
7. MAY IMPROVE BRAIN FUNCTION
One study showed that eating high flavanol dark chocolate may improve brain function by increasing blood flow to the brain.
It also contains stimulants like caffeine and theobromine which as we know can improve focus and function in the short term.
8. IMPROVES HAPPINESS
Think about it, every time you eat chocolate you feel good. This is because it contains chemicals that improve mood and happiness.
Also, scientists have found that when people who suffer anxiety ate some dark chocolate every day for two weeks, their stress hormone levels were reduced significantly.
HOW TO CHOOSE THE BEST DARK CHOCOLATE
All chocolate is not created equal so here's some simple tips when choosing:
Dark chocolate always not milk or white
70% or higher cocoa content. The darker the chocolate, the less sugar it will contain. I generally go for 85%-90% dark chocolate but if you aren't used to it, you might want to start at 70% and gradually work upwards. Trust me your taste buds will adjust with time!
Ideally dairy free
LET'S WRAP THIS UP
As you've read there's considerable benefits with dark chocolate BUT this doesn't mean it's a free for all due to its caloric content. You must be mindful as it's too easy to overeat!!!
As a guideline have 1-2 squares maybe after dinner and really savour them. Enjoy!
Love Gaynor x