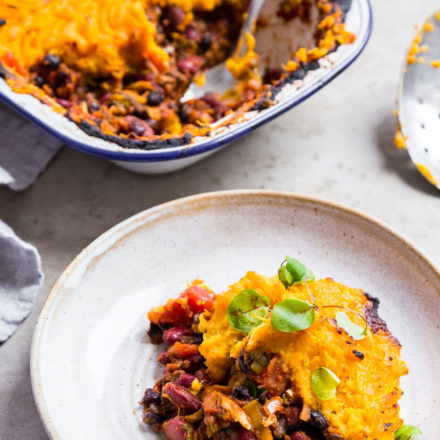 SWEET POTATO & BLACK BEAN SHEPHERDS PIE
I stumbled upon this fabulous meat-free shepherd's pie recipe by the lovely Deliciously Ella.
It's the perfect family supper (serves 4) that's hearty and comforting in the autumn and winter months as the dark cold nights draw in.
Not only is it healthy, delicious, quick and easy to make but it's also vegetarian, vegan and gluten-free.
In this recipe, earthy mushrooms and beans are sautéed with red onion, garlic, maple, coriander, lime juice, spring onions, and tomatoes, until they're soft and full of flavour, before being baked under a blanket of fluffy sweet potato mash.
You simply must try this vegan take on an all-time classic dish that's been veganised.
Once you try it, let me know what you thought and send me a picture of the finished goods!!!
INGREDIENTS
600g sweet potato, peeled, cut into cubes
Splash almond milk
230g black beans (drained weight), drained and washed
230g red kidney beans (drained weight), drained and washed
400g can tinned tomatoes
150g button mushrooms
4 spring onions sliced
1 large red onion, peeled, finely diced
2 garlic cloves, peeled, finely diced
1 tablespoon maple syrup
Handful fresh coriander chopped
Teaspoon smoked sweet paprika
Juice of 1 lime
Salt and pepper to taste
Olive oil
INSTRUCTIONS
Preheat the oven to 200c, grill setting
Boil the peeled sweet potatoes until tender, drain, set aside
Fry the onions, garlic, a pinch of salt in a drizzle of olive oil over a medium heat for 5 mins
Add the paprika and spring onion
Stir well and sauté for 2-3 mins
Add the mushrooms and both beans
Stir well and sauté for a further 5 mins
Add tinned tomatoes, maple syrup, lime juice, pepper, coriander, and mix well
Mash the sweet potatoes with the almond milk and a pinch of salt
Spoon the bean mix into a casserole dish
Top with the sweet potato mash
Place in the oven to grill until it starts to crisp on top, about 20-25 mins
WANT MORE GREAT RECIPES LIKE THIS? SIGN UP HERE TO RECEIVE THE VERY BEST OF B-FIT STRAIGHT TO YOUR INBOX