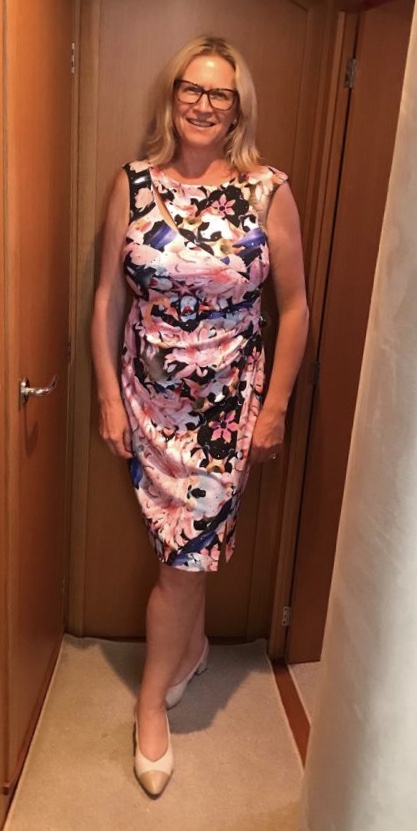 SUSAN LOOKS FABULOUS AFTER DROPPING A DRESS SIZE
When I received Susan's wedding photos in this stunning floral dress I was so proud!
Susan came to me a while back very disheartened. She had tried going to the gym and doing fad diets but nothing was shifting the pounds or getting her fitter. She came to me looking help to lose weight and improve her fitness and health once and for all. I'm pleased to report we did just that!
Below is her before and after photo:
We got Susan started on the B-FIT PLATINUM PT NUTRITION & LIFESTYLE COURSE. She hit the ground running and in this gorgeous photo below she'd lost an entire dress size in 10 weeks. Amazing huh?!!!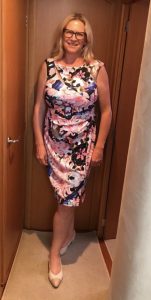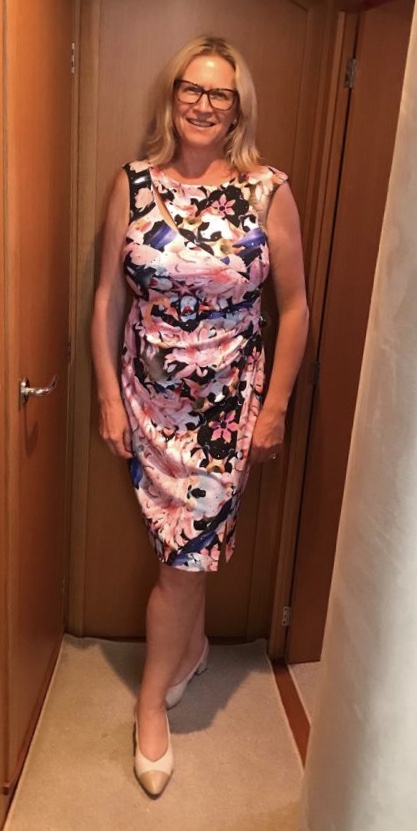 Susan is continuing to smash all her goals, lose more weight as she's currently now doing the B-FIT 21 DAY DETOX. She even attended a party the other night, only drank water yet had a blast dancing the night away until 1.30am!
Let's hear what Susan herself as to say about her transformation in her own words:
"I would like to thank the B-Fit team, Gaynor and Guy for helping me achieve my goal.
My focus was my daughter's wedding on 22nd June. I needed to lose weight, to get fit, be less stressed, and I needed better mechanisms to cope with the menopause. And of course, I wanted to look amazing so I could look back at the photographs and be happy with the way I looked.
I tried the gym and I followed fad diets, but nothing seemed to shift my weight, nor did I seem to be getting any fitter. I just got more stressed and disheartened that I wasn't getting anywhere. I felt stuck.
Enter Gaynor and her B-FIT PLATINUM PT NUTRITION & LIFESTYLE COURSE in April. Initially, I didn't think I could find the time because I juggle a busy family life and work commitments. I wondered how could I possibly manage extra time for me. However, the first piece of advice I received from Gaynor was 'you must make time for you' because it soon became apparent that it wasn't just about losing weight it was also a programme that would encompass my total health and wellbeing. With Gaynor's coaching and positive outlook, I actually began to believe that I could really achieve my goal of looking great in 10 weeks.
Now fast forward to my daughter's wedding. I dropped a dress size. I am fitter, healthier, less stressed, happier, sleep through the night, and I'm virtually off all my prior prescription medication. I look at the photographs and think 'wow' we did it.
Throughout this programme not only have I learnt about the correct way to exercise, but I've also learnt so much about nutrition and its importance to a healthy lifestyle. I have also just started Gaynor's 21 DAY DETOX and already I am beginning to see the difference. It's a detox with a twist though, no going hungry, the recipes are delicious and very easy to prepare. I can even eat a bit of chocolate – seriously!!!
I cannot praise highly enough this B-Fit program – like me, you'll be amazed at the results they deliver."
Here's a quick summary of the goals she's achieved so far:
Dropped a dress size
Improved fitness
Improved sleep
Improved health
Reduced stress
Happier and more confident
Coming off prescription medication
Tempted to start your own transformation? You could be the next Susan. Jump on board – CLICK HERE TO SEE ALL B-FITS PACKAGES. I'll be eagerly waiting to welcome you into the B-Fit family with open arms.
Love Gaynor x