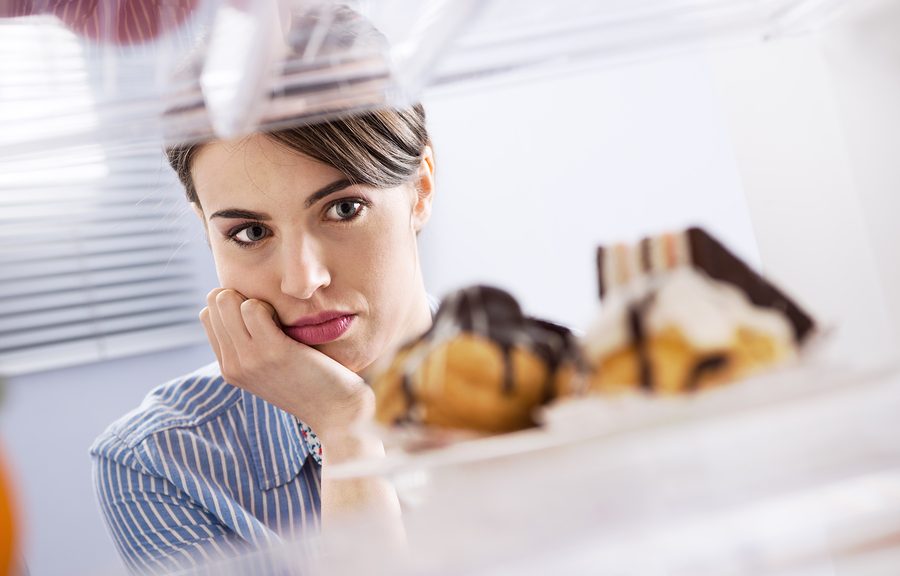 8 FOODS TO CRACK SUGAR & CARB CRAVINGS
Cravings are a very real and potential part of the weight loss journey.
However, it's how you respond to these cravings, especially sugar and carbs, that will go a long way to determining what kind of results you achieve.
The issue with sugar and carbohydrate-loaded foods is they trigger feel-good hormones like serotonin and dopamine, which makes us want them more. Hence, it's so hard to break that addictive cyclical loop.
Whilst these foods give us immediate satisfaction, excessive consumption will wreak havoc on your health affecting your mood, suppressing your immune system, and leading to weight gain.
Part of managing cravings is identifying the root cause of it. For example; is it stress, have you left too long between meals and you're hungry, are you lacking certain vitamins and minerals in your diet, are you bored or procrastinating instead of getting something done?
While managing your lifestyle and asking the above questions is definitely something you want to look at, there's also certain foods that will practically help you curb cravings to make sure you don't succumb to them.
Below I've listed 8 of my best foods for overcoming cravings and staying on track with your body transformation.
1. AVOCADO
Packed with plenty of minerals, vitamin E and omega fats, avocados make a healthy snack at any time of the day. You can eat them on their own, whizz them into a green smoothie, have them with your morning eggs or chopped on a salad.
2. NUTS & SEEDS
Keeping a stash of nuts/seeds with you on the go or at work is a great way to avoid eating unhealthy options as you've got a quick, easy and healthy option with you at all times. A handful of almonds, cashews, and walnuts are great to have each day as they are high in omega fats, contain protein and no sugar. Avoid nuts covered in sugar, salt or other flavours as these may make you crave more.
3. COCONUT OIL
Substituting sugar with eating healthy fats can help curb your cravings while providing your body and brain with a positive health boost. Giving your body fat to burn (instead of sugar) has been shown to do wonders for our brain and metabolic health. In fact, the well-known author of I Quit Sugar, Sarah Wilson, eats two tablespoons of coconut oil every day after lunch or dinner. In her words, it's her "full proof trick" that "kills her appetite for about four to five hours". I've also had a recent client who's had similar success taking coconut oil neat on a spoon and it's really curbed her cravings so it's definitely worth trying!
4. GHEE BUTTER
Ghee butter is considered to be one of the best foods to help curtail a sweet-tooth. Ideally, you want it from grass-fed only cows so it makes for a healthier fatty acid profile. Ghee stimulates the digestive system, improves absorption and assists elimination, all while helping to stunt your cravings.
5. VEGETABLES
Including a healthy amount of vegetables with every meal is a simple quick way to increase satiety from meals and limit sugar cravings due to their high fibre content.
One of the reasons people get such harsh cravings when starting a diet is that their gut bacteria are so used to being fed sugary, nutritionally empty foods. When you perform a nutritional reset such as when you start a clean diet you'll be including a lot more single-ingredient foods in your diet like broccoli, spinach, and kale. Your body will gradually start to want healthier, more nutritious foods and so thrive more.
Vegetables are also rich in vitamins and minerals. The more nutrient-dense food you consume, the fewer cravings you'll have as your body won't be signaling for you to eat more due to a lack of vitamins and minerals.
Lastly, vegetables are a great choice on a diet because of their large food volume and low-calorie content which means you can eat plenty of them and feel full.
6. CINNAMON
Cinnamon is a powerful spice with the ability to stabilise blood sugar and suppress appetite by reducing the rate and amount of glucose entering the bloodstream after a meal. So get sprinkling it onto foods such as oatmeal, apples, yoghurt, pancakes, and grapefruit.
7. PSYLLIUM HUSK
The reason psyllium husk works so well for appetite suppression is that it mixes with water in your digestive tract and then expands and swells. This expansion is why it manages to keep you fuller for longer. I recommend FIBRE PLUS and that you take 1 tablespoon a day. Make sure you increase your water intake to match this increased fibre consumption so as to maintain bowel regularity. Another option is you take a pill format such as PSYLLIUM HULLS instead of a powder.
8. WATER
Technically not a food, but it's one that works and helps to keep you hydrated as well.
When we crave something, our body can sometimes get it's wires crossed, and what feels like a food craving may actually be thirst. So before diving into the cookie jar try drinking water first as this could well curb your appetite, whilst also helping you to lose weight at the same time.
Another tip is to drink lots of water before your meal which helps to fill you up so minimises the chances of overeating. If the sweet tooth really kicks in, try squeezing some lemon, lime or fruit of your choice into your water.
I recommend you drink at least 3 litres of water per day to stay adequately hydrated.
LETS WRAP THIS UP …
So, there you have it my 8 food tips to turn to when the sugar and carb monster strikes.
The reality is there's going to be a time in any weight loss programme when you're going to feel a little hungry, no matter what. You can do this!
READY TO START YOUR TRANSFORMATION TODAY?
If you want to push the green button get in touch by emailing GAYNOR@B-FIT.UK.COM or call/text me on 07748298728.
Love Gaynor x