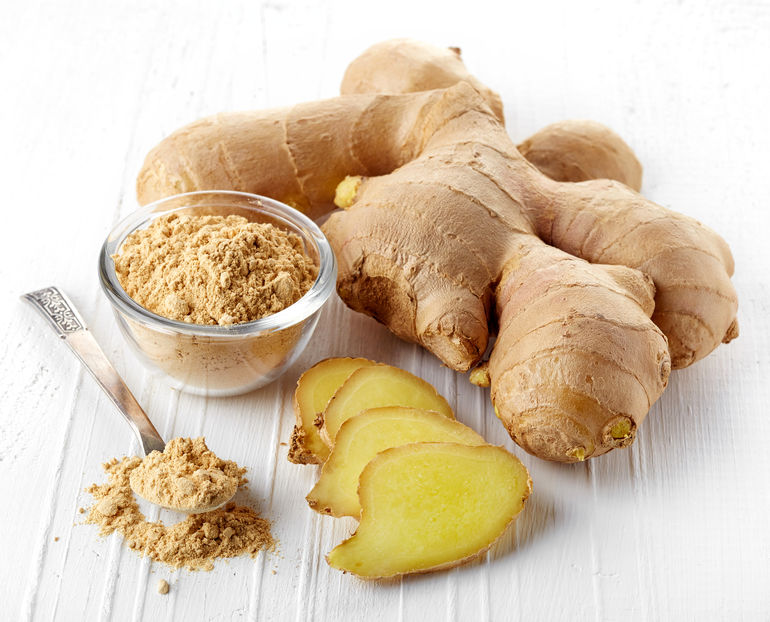 THE HEALTH BENEFITS OF GINGER
Ginger grows in tropical climates, has orchid-like flowers and bamboo-like stems. It's been used around the world for centuries both in cooking and as a medicine for conditions ranging from poor digestion to sickness.
Here's some of it's amazing benefits:
• Improves digestion
• Anti-inflammatory
• Helps promote the release of intestinal gas
• Prevents colds and the flu thanks to its 12 antioxidants
• Eases menstrual and IBS cramps due to its antispasmodic effects
• Boosts mood due to its detoxifying and liver cleansing effects
• Good source of vitamin C, magnesium, potassium, copper and manganese
• Natural remedy against nausea, morning sickness, and motion sickness
• Can be protective against ovarian, colorectal, lung and breast cancer
With all of these incredible benefits, what better way to get your daily dose of ginger than in a shot.
The shot recipe I'm about to share with you is super healthy, tasty, and very simple and quick to make. It's cold-pressed and made with raw organic apple, ginger, turmeric, and lemon. It's a great way to kick-start your day, supercharge your afternoon or simply keep your gut energised with natural, plant-based goodness.
There's a fiery kick to it from the ginger that'll put hairs on your chest! it will definitely warm you up from the inside out on these cold wintery mornings.
You just need a juicer and preferably a cold-pressed one. If you don't have one, then place all the ingredients in a blender, add some water and blend until smooth. You could then strain it if you want to otherwise drink it as is.
If you can't get fresh ginger and/or turmeric you can use dried. Make the juice using only the apple and the lemons, pour it into a jar, add the ground ginger and turmeric and stir.
Lastly, turmeric is also really good for you. Make sure you check out my blog THE SUPER POWERS OF TURMERIC.
Here's the immune boosting ginger shot recipe. Enjoy and be sure to let me know how you get on.
INGREDIENTS
• 1 organic apple
• 2 organic lemons
• 2-inch fresh ginger root
• 2-inch fresh turmeric root
INSTRUCTIONS
• Wash all the ingredients
• Peel if they're not organic
• Chop the ingredients
• Put everything through the juicer