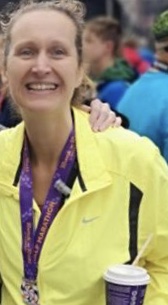 LEARN HOW CORALIE RAN THE LIVERPOOL HALF MARATHON
I love seeing my clients achieve amazing changes in their physical health and fitness. Coralie smashed her transformation out of the park and continues to do so to this day.
As if losing over 2 stone, 16cm off her tummy and swimming 22 miles wasn't enough she's just gone and ran the Liverpool half marathon this past May!!!
Words cannot express how chuffed and proud I am of you 🙂
You see for Coralie this is now a lifestyle (with of course the odd treat here and there) which she lives by daily. It's a well engrained habit.
But I'm not going to tell you her story from my perspective, I'm going to let her do that in her very own words. So here goes …
"Back in April 2018, I was feeling overweight, under active and pretty bad about myself. I had no confidence in my body and was very nervous about exercising.
My goal at the start of my B-Fit journey was to lose weight, learn more about nutrition and explore the possibility of rehabilitating old injuries. The good news is that all of these things have happened!
So what's changed? After completing the 12-week programme and the 21-day detox, I've lost over 2 stone and 16cm off my tummy. I've gone from swimming 10 lengths to a mile three times a week and I'm currently raising money for a virtual English Channel swim.
Guy's exercises have helped me identify the pattern of 3 musculoskeletal issues, eliminate one completely, reduce pain in another and stabilise my ankles. This means I can do more running and jumping in Gaynor's 1-2-1 PERSONAL TRAINING SESSIONS and Thursday night's SMALL GROUP PERSONAL TRAINING.
Thursday night's SMALL GROUP PERSONAL TRAINING is a small group and all the other ladies are really friendly. I really enjoy my Thursday evenings and feel like I've done a very energetic workout
Gaynor's nutrition and exercise plans are well researched, easy to follow, very clear, safe and easy to track. I've lost weight and changed shape steadily and grown in confidence and knowledge of my own capabilities.
I've developed good habits which require commitment. Gaynor is a great motivator and has pushed me with a kind but firm hand to get outside my comfort zone and get fitter and stronger. One of my proudest moments was fitting into my inspiration dress for my son's graduation. I got loads of compliments and more importantly, he loved how I looked for his big day.
Thank you to Gaynor and Guy for helping me to feel so much more confident and secure about myself and my capabilities. Life is so much more fun and happier these days."
If after reading Coralie's transformation you're inspired to take action then check out B-Fit's 1-2-1 PERSONAL TRAINING and also the SMALL GROUP PERSONAL TRAINING. These were 2 things Coralie implemented that played a big part in her results.
If you're tempted to embark on your own transformation journey then make sure you get in touch by texting/calling me on 07748298728 or email to GAYNOR@B-FIT.UK.COM.
Love Gaynor x