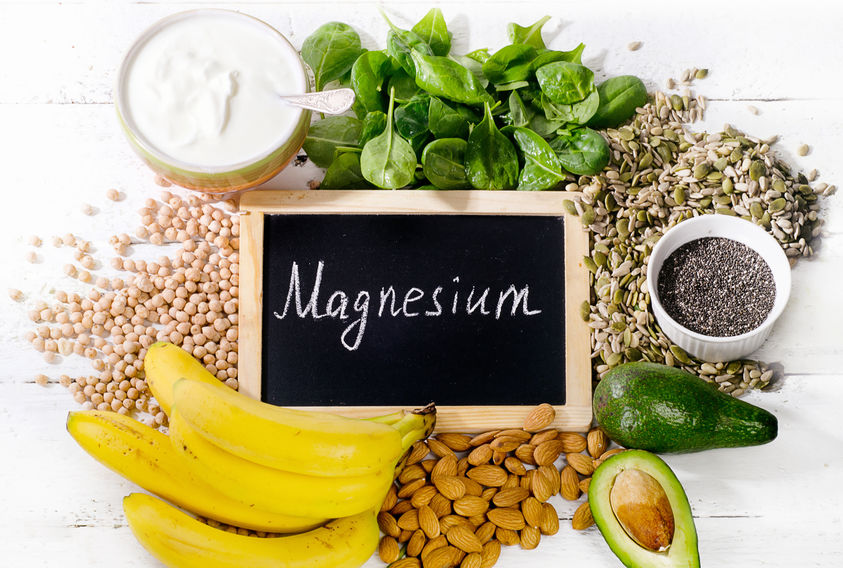 GETTING ENOUGH MAGNESIUM IN YOUR DIET?
Magnesium is perhaps one of the most overlooked minerals. Many people are deficient in it which is concerning as it's responsible for over 300 enzymatic reactions in the human body and therefore not to be taken lightly. The health consequences of deficiency can be significant, which is exactly why I wanted to discuss this important mineral in today's blog.
WHAT IS MAGNESIUM?
Magnesium is a mineral which is essential to human health.
It is found in numerous food sources but modern lifestyles and diets have diminished our intake resulting in the majority of people not getting the recommended daily allowance (RDA). On top of this, the RDA does not take into account increased needs for magnesium caused by stress, high carbohydrate diets and regular exercise.
Magnesium is used by cells in the body for a number of processes. Signalling to other cells. Allowing nerves to fire. Maintaining strong cellular walls. It is also required to build proteins and so muscle as well as maintaining DNA structure. Magnesium is also required for cells to use energy from food.
Around 60% of magnesium is stored in your bones and less than 1% in your blood. Magnesium levels are controlled by the kidney, with some of it being lost through urine each day.
Since magnesium is stored in bones and inside cells, blood tests are not very useful in determining whether you're magnesium deficient. Do keep this in mind.
WHAT ARE THE SIGNS OF DEFICIENCY?
Early signs of deficiency are:
Loss of appetite
Sugar and salt cravings
Fatigue
Insomnia
Weakness
High blood pressure
Nausea
Vomiting
Unclear thinking
Serious signs of deficiency are:
Numbness
Tingling
Irritability
Poor focus
Mental confusion
Muscle cramps
Seizures
Abnormal heart rhythms
Coronary spasms
If magnesium deficiency goes unchecked over an extended period of time it can result in more serious illnesses namely:
Anxiety
Asthma
Bone Health
Stress
Stroke
Cancer
Depression
ADHD
Allergies
Diabetes
Heart disease
Inflammation
Migraine
PMT
HOW MUCH DO WE NEED?
The UK RDA is 300mg a day for men and 270mg a day for women. This is do-able if you eat a diet rich in vegetables, nuts, and seeds. However, modern day lifestyles are not only low in these foods but stress, lack of sleep and high carbohydrate intake means the body needs even more magnesium in order to be optimal.
Exercise also causes increased magnesium excretion in the urine and sweat. This means that people who exercise regularly are more likely to be magnesium deficient. Exercise is incredibly good for you but do bare in mind that your personal requirements may be higher.
WHY ARE WE DEPLETED?
Alas due to modern day farming methods, the soil is magnesium depleted. Therefore, the plants/vegetables we eat and the grass fed to animals are then all depleted. Therefore, we at the end of the food chain also don't get enough magnesium.
Poor diets also contribute. Green vegetables, nuts, legumes, and whole seeds are rich sources but consumption of these tend to be low in modern-day diets. Processed foods are low in magnesium compared to their whole food equivalents.
Lastly, bare in mind that alcohol, fibre, excessive calcium and phosphate will also reduce magnesium absorption in the intestine.
SOURCES OF MAGNESIUM
Pumpkin seeds
Sesame seeds
Spinach
Swiss chard
Quinoa
Cashew nuts
Soybeans
Sunflower seeds
I also recommend you supplement. The one I personally use and endorse is NATURE'S SUNSHINE MAGNESIUM.
Lastly, because magnesium can be absorbed through the skin, you can also use a good quality magnesium oil or soak in an epsom salts bath. Not only is the latter relaxing but it's also great for your skin.
Now I'd like to hear from you. Have you taken a magnesium supplement, used an oil or epsom salts to increase your levels? Did you notice a difference in your health? As always, I'd love to hear.
If you've any questions and/or need a bespoke nutritional and supplement plan do get in touch by emailing GAYNOR@B-FIT.UK.COM or email/text 07748298728
Love Gaynor x