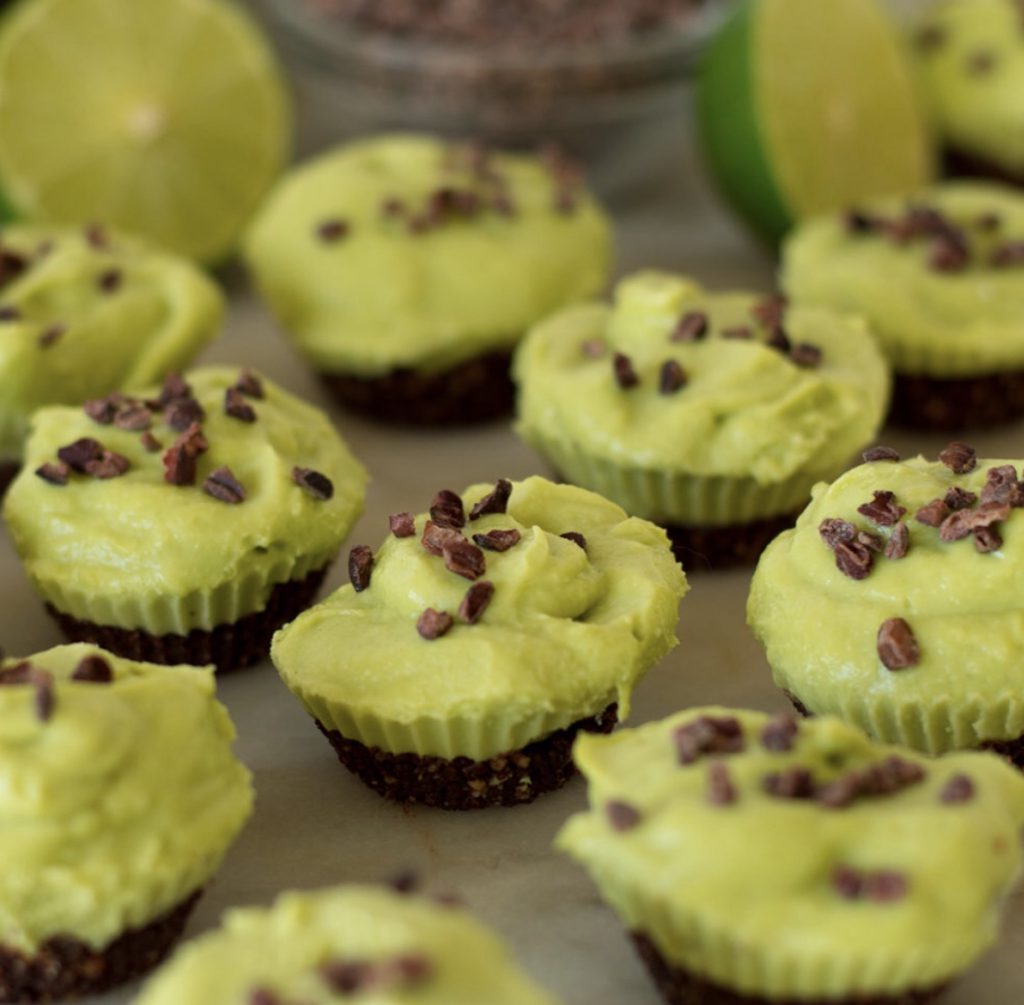 CHOCOLATE AVOCADO LIME CHEESECAKES
Fancy having 16 mini cheesecakes to hand when you need a sweet healthy treat? If yes, you're in the right place because these little cheesecakes are vegan, raw, gluten-free, wholesome and utterly decadent !!!
They can be stored in the freezer for up to 3 months so you can simply dip in and out as and when a sweet craving hits you.
For the base, you can use any nut you like. It doesn't have to be almonds and if you want a nut-free version you can also use sunflower or pumpkin seeds.
Some people think it's a bit weird using avocadoes in desserts but trust me it works! It tastes so good.
As for equipment, you'll need a small blender, a food processor and silicon cases 1 inch in diameter.
If you want to switch the flavour up a bit you could use mint instead of the lime for a mint chocolate avocado cheesecake. Simply replace the lime with a splash of water and a few drops of peppermint oil or 1 tsp of peppermint extract.
In terms of the sweetener, you can also use alternatives to maple syrup such as date syrup, coconut nectar or any other similar sweetener.
INGREDIENTS
Cacao base:
½ cup/50g almonds
½ cup/90g pitted dates
¼ cup/25g desiccated coconut (unsweetened)
1/3 cup/5g cacao/cocoa powder
Pinch of salt
Lime avocado filling:
2 large avocados
3 large limes
2 tbsp coconut butter, coconut oil or cacao butter
2-3 tbsp maple syrup (according to how sweet you want them)
2-4 tbsp water
Toppings:
2 tbsp cacao nibs
1 tbsp grated lime zest
INSTRUCTIONS
Blend all the base ingredients until they stick together when pressed
Juice the limes
Place the lime juice, avocado flesh, syrup, melted butter, water in a blender
Blend until smooth
Spoon the base mixture into your cases, push firmly with your fingers
Dollop on the avocado lime frosting
Top with the cacao nibs and lime zest
Place in the freezer to set
Enjoy out of the freezer after 2 hours
If you freeze for longer just take out half an hour before enjoying
Health to enjoy!
Gaynor x