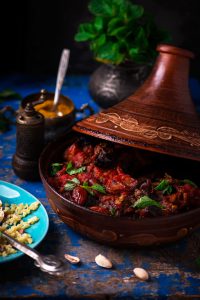 This aromatic lamb tagine is a great dish that you can make ahead of time and reheat without affecting the flavour. The fruity lemon quinoa is quick to make and best made just before serving.
If you are following the B-Fit B-Fabulous 21 Day Weight Loss Plan, it is advisable to avoid red meat for the duration. Turkey breast can work well in it's place. Please use organic meat where possible.
Ingredients
For the lamb tagine

4 tbsp butter or coconut oil

8 garlic cloves, peeled and crushed

4 onions, peeled and chopped

4 tsp grated, fresh ginger

1½ tbsp coriander seeds, crushed

3 tsp ground cinnamon

sea salt and freshly ground black pepper

3kg/7lb shoulder of lamb, boned, fat removed and cut into 4cm/1½in cubes

2 tbsp tomato purée

2kg/4½lb ripe tomatoes or 4 X 400g/14oz can tomatoes, coarsely chopped

4-5 tbsp honey

For the quinoa

1 large or 2 small pomegranates

400g quinoa

6 tbsp olive oil

2 lemons, juice only

1 litre/1¾ pints boiling chicken stock or water

sea salt and freshly ground black pepper

4 tbsp chopped, fresh mint or coriander

To serve

1 lime, cut into wedges

bowl organic Greek yoghurt
Preparation method
Preheat the oven to 160C/325F/Gas 2.

For the lamb tagine, heat a large ovenproof casserole or heavy saucepan on a medium to high heat.

Add the olive oil, garlic, onions, ginger and spices and season with sea salt and freshly ground black pepper. Stir, then cook, covered, on a low heat for about ten minutes, until the onions are soft.

Add the lamb, tomato purée, chopped tomatoes and honey into the saucepan, stir throughly.

Bring to the simmer and place in the oven for 1½ hours, until the lamb is tender.

Remove the lid of the saucepan halfway through the cooking time to let the liquid reduce and thicken.

If the sauce is still a bit thin, put the saucepan on the hob on a medium heat and without the lid. Stir occasionally and let the liquid reduce until a thick sauce begins to appear.

Meanwhile, for the quinoa, cut the pomegranates in half and scoop out the seeds using a teaspoon and remove the white membrane around the seeds.

Wash the quinoa thoroughly and place in a pan with 2 parts chicken stock to 1 part dried quinoa. Bring to the boil and simmer for 20 minutes until you can see the translucent middle of the quinoa grain has separated.

When the stock water has absorbed, separate the quinoa with a fork and take off the heat. Mix in the olive oil and lemon juice, season with sea salt and freshly ground black pepper.

Stir the chopped herbs and pomegranate seeds into the quinoa.

To serve, place the tagine on serving plates with quinoa and a wedge of lime. Serve alongside a small bowl of thick organic Greek yoghurt.