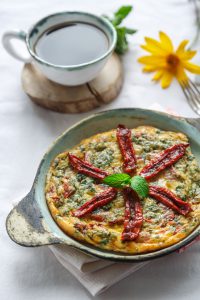 15 minute feta frittata
This quick and easy recipe takes under fifteen minutes from preparation to plate.
Ingredients
1 knob of coconut butter
1/2 chopped onion
2 cloves chopped garlic
chopped peppers
chopped tomato
1/2 cup frozen peas and whatever veg you have
4 eggs
200g of feta cheese
Method
1) Melt knob of coconut butter in pan
2) Put grill on low in oven .
3) Chuck in chopped onion, garlic , peppers , tomatoes, frozen peas / whatever veg you have and soften in a cast iron/ oven proof frying pan on hob for a few mins.
4) Whisk 4 eggs in a jug and slowly pour the eggs over the veg and  crumble a bit of feta over the top and season with himalyan salt and pepper.
5) Allow to settle for a few mins then put  frying pan under grill for a few mins until egg solidifies.
6) Serve with a B-Fit rainbow salad and hemp oil.