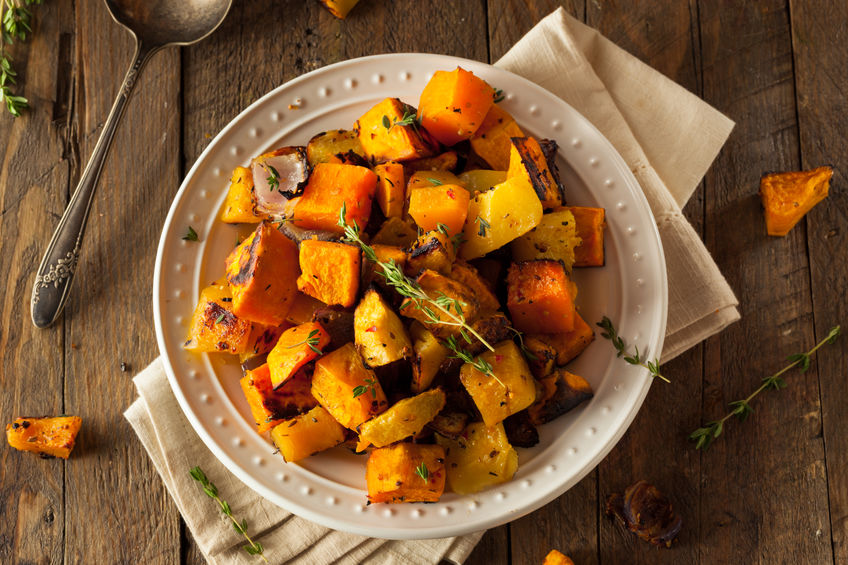 ROASTED BUTTERNUT SQUASH WITH CHESTNUTS
At Christmas, we all love our duck fat roasties! However, they're not exactly great for the old waistline!
A healthier but equally tasty option is this delicious recipe using butternut squash which will definitely satisfy those carb cravings.
This dish is a one-pan wonder and can be thrown together quickly. Simply prep everything, put it on a baking tray, season and roast.
INGREDIENTS
• 500g diced butternut squash
• 100g ready to eat chopped chestnuts
• ¼ red onion sliced
• 1 tbsp olive oil
• 1 tsp sage
• 1 tsp thyme
• ½ tsp black pepper
• ¼ tsp Himalayan sea salt
INSTRUCTIONS
• Preheat the oven to 190c
• Line a baking tray with baking parchment
• Add the red onion, butternut squash and chestnuts
• Season with the herbs, salt and pepper
• Drizzle with olive oil
• Roast for 30-35 mins until the dice are tender
READY TO LOSE WEIGHT, GET TONED AND TRANSFORM YOUR PHYSIQUE? EMAIL GAYNOR@B-FIT.UK.COM OR TEXT/CALL 07748298728 TO CHAT!