Joanne has been training with me since April and has made fantastic progress in a short amount of time.
Here is what she had to say:
"I have been training with Gaynor for the last four months.
For me it was a huge step, I was overweight, unhealthy, lacking in confidence and recovering from anxiety issues.
I have dropped two dress sizes and lost 14 cm off my tummy, I am 18lbs lighter, more toned, eating healthy and nutritious food and enjoying exercising.
One of the best things for me is that I now feel strong – it's such an empowering feeling. I go out more, my confidence has returned, and my outlook on life has changed. I have learned so much from Gaynor- its one of the best decisions I have ever made."
If you would like to see results like Jo, get in touch! Txt me and book a free confidential chat 07748 298728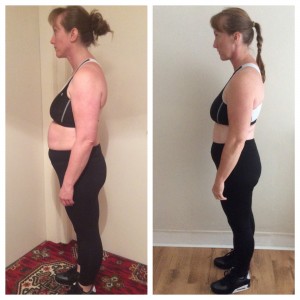 CLICK HERE
to claim your FREE session or Call Gaynor on 07748 298 728
WANT FREE WEEKLY HEALTH,NUTRITION & WEIGHT LOSS TIPS?
Just pop your details in the box below
search B-fit posts
Categories