This warming winter soup is totally delicious, packed with goodness to fight off those winter blues and is super-filling.  Plus it's really quick and easy to make!  It contains one of my favourite super nutrients, turmeric!  Turmeric is scientifically proven to fight fatigue, heart and cardiovascular conditions, various cancers, inflammation, immune system issues and more. Try it – I guarantee you'll love it!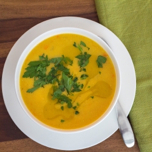 INGREDIENTS
200g pumpkin, or butternut squash, roughly chopped
4 carrots, roughly chopped
1 sweet potato, roughly chopped
4 tomatoes, roughly chopped
3 cloves garlic
1tsp mustard seeds
1 red onion
300ml vegetable stock
200ml coconut cream
1 handful of fresh coriander – roughly chopped
1 inch fresh turmeric root (peeled)
1 inch fresh ginger root (peeled)
1/2 red pepper
1 cup of lentils
coconut oil
Optional Topping
1/2 cup cashews
2 tbsp Pumpkin Seeds
Thinly sliced red chilli
INSTRUCTIONS
Roughly chop  the red onion, garlic, ginger and turmeric.
Gently heat a little coconut oil in a pan and add the onion. Once it's cooking a little, add the turmeric, ginger, mustard seeds and garlic – being careful not to burn the garlic.
Add the carrot, pumpkin/ butternut squash, sweet potato, red pepper and tomatoes, and give it a good stir to coat the veggies in the oil and flavours
Add the stock and then add the lentils. If you're using dried lentils, you will need to add an extra 50ml of stock to allow for an additional 10 mins cooking time, but if you're using tinned lentils (please buy organic), add them now and move onto the next step.
Turn the heat down to simmer and let all of the veggies soften and the lentils cook.
Once everything has softened, add the coconut cream and chopped cilantro (coriander) and then transfer to a blender and blend until smooth
To make the optional topping simply roughly smash up the cashews on a chopping board under a knife and cook with the pumpkin seeds in a little coconut oil with the thinly sliced chilli until it's warmed through and a little browned.
Serve with chopped coriander and a dollop of coconut cream.