Bring some warmth into a cool, crisp salad. This salad is delicious, tasty and packed with vital micronutrients, healthy oils and (most importantly) loads of flavour!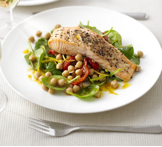 INGREDIENTS
1 large red pepper, quartered and deseeded
Zest and juice ½ small lemon
Pinch smoked paprika (we used sweet smoked paprika)
1 tbsp extra-virgin olive oil
100g bag young leaf spinach
2 x 140g (2 x 5oz) skinless salmon fillets
400g can chickpeas
INSTRUCTIONS
Heat the grill. Squash the pepper quarters flat and grill for 5 mins or until well blackened. Leave the grill on, then transfer the peppers to a bowl, cover with cling film and leave to cool slightly before peeling off the skins and cutting the flesh into strips.
Make the dressing by whisking together the lemon zest, juice, smoked paprika, olive oil and seasoning. Toss half the dressing with the spinach leaves and divide between 2 bowls.
Season the salmon and grill for 5 mins or until just cooked through. Meanwhile, heat the chickpeas in their canning liquid in a saucepan for 3-4 mins. Drain well, then mix with the remaining dressing and strips of pepper. Spoon over the spinach and top with the salmon to serve.