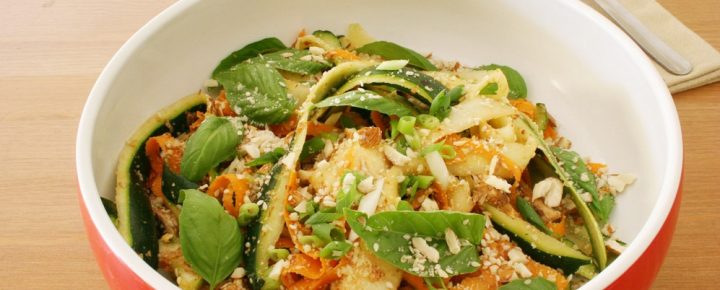 Apologies for calling you lazy but hey, I'm the first to admit that when it comes to matters of the kitchen, I go for the easy option every time!
One food that is easy to replace with a healthy, nutritious alternative is pasta.
Have you ever tried making pasta with courgette? No? Well now is the time to try and this extra simple recipe is just the ticket to have you ditching the processed white pasta rubbish forever.
Ingredients
1 medium courgette, washed

1 tsp avocado oil
1 clove of garlic, peeled and finely minced
2 tsp basil pesto
1 tbsp natural greek yogurt or Coconut yogurt
1 handful of fresh or frozen peas
salt and pepper
lemon zest
smidge of parmesan cheese to finish
Method
1. Take a cheese grater and place it on its side with the side with the largest grating holes on it face up.
N.B. If you have a cheese slicer, or long potato peeler, you might find these easier to use too and create wider ribbons.
2. Cut the ends off the courgette, then push along the top of grater, in long strokes in order to create long, thin ribbons of courgette.
3. Heat a pan with the avocado oil, then gently fry the courgette with the garlic until slightly tender.  Stir in the pesto, yoghurt and the peas (even if they are frozen. They'll defrost quickly in the frying pan). Stir until coated, season with salt and pepper, then take off the heat.
4. Pile it into a dish (I served mine on a bed of raw spinach leaves), and grate over some lemon zest and Parmesan. Delicious!