MARGOTS DROPPED A DRESS ASIZE + KEPT IT OFF !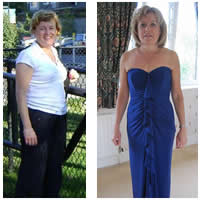 "Having never had to exercise I suddenly realized at the age of 53 and having enjoyed numerous cruises that my weight had started to creep up on me."
I had no ambition to join a gym or spend hours jogging and knew I needed someone to help motivate me and I certainly have found that person in Gaynor. I have been attending a personal session with her for about 16 months and my goal was to drop a dress size which not only have I managed to do successfully but maintaining this has been made so much easier having followed her nutrition advice. Friends have commented not only on my weight loss but the fact of how well I look which certainly gives you great encouragement. I never get bored with her exercises as they are so varied and you always manage to fun at the sessions. I have also attended some of her boot camps which I can highly recommend. Gaynor is supportive motivational and always willing to go that extra mile for her clients.
Margot Walker