Cashews are full of super-healthy monounsaturated fats. Combine this with a serving of skinless chicken breast, and you have a hearty, delicious recipe that is packed with flavour!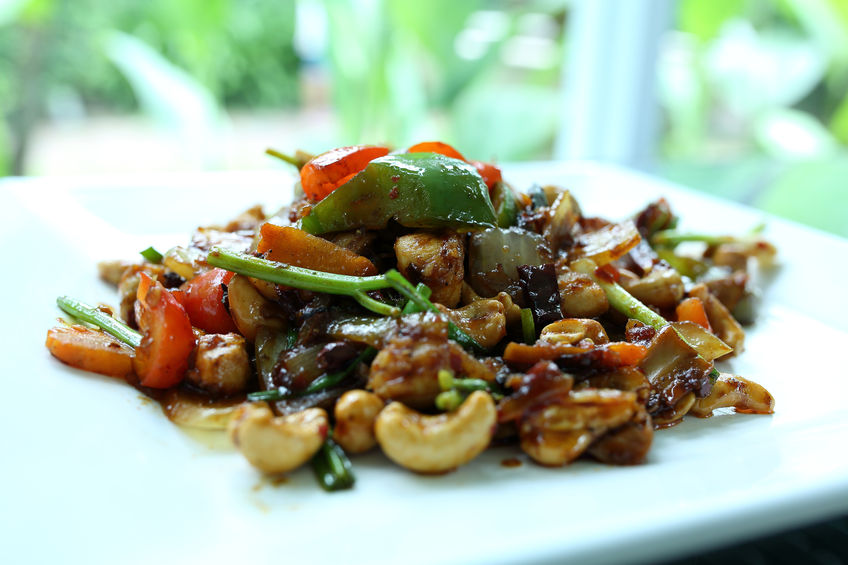 PREP TIME: 25 minutes
COOK TIME: 14 minutes
TOTAL TIME: 39 minutes
SERVES: 4
INGREDIENTS
12 oz organic boneless, skinless chicken breast halves, cut into thin crosswise strips
4 tbsp organic soy sauce
½ tsp crushed red-pepper flakes
3 tbsp raw cashews
2 tbsp avocado oil
5 garlic cloves, slivered
1½ tbsp peeled fresh ginger, slivered
1 large red bell pepper, cut into thin strips
2 medium carrots, cut into thin slices
4 spring onions, diagonally sliced
½ cup of freshly squeezed orange juice (not concentrate)
3 cups lettuce leaves
3 cups of baby spinach
INSTRUCTIONS
1. MIX the chicken, 2 tablespoons of the soy sauce, and the red-pepper flakes in a medium bowl. Cover and set aside.
2. COOK the cashews in a small non-stick grill pan over medium heat, stirring often, for 3-4 minutes, or until lightly toasted. Tip onto a plate and let cool.
3. HEAT 1 tablespoon of the oil in a large non-stick grill pan over medium-high heat. Add the garlic and ginger and stir fry for 1-2 minutes, or until fragrant and lightly golden. Add the chicken and stir fry for 3 to 4 minutes, or until no longer pink. Transfer to a clean bowl.
4. PLACE the remaining 1 tablespoon oil in the same grill pan and heat over medium-high heat. Add the bell pepper and carrots, and stir-fry for 3 minutes. Add the spring onions and stir-fry for 2 minutes longer, or until the vegetables are crisp and tender. Return the chicken and any juices to thegrill pan. Add the orange juice and the remaining 2 tablespoons soy sauce. Bring to a boil, stirring. Let boil for 30 seconds; remove from the heat.
5. MIX the lettuce and spinach in a large, deep platter or in a wide, shallow bowl. Spoon the chicken mixture on top. Sprinkle with the cashews and serve immediately.