This cake is literally a slice of Heaven. It's hard to believe that something tasting so good is actually healthy as well, but it's true! I hope you enjoy it!
I would like to thank Emma Whitnall for this lovely recipe.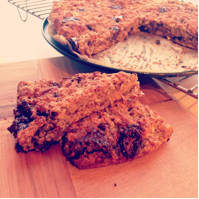 INGREDIENTS
40g chia seeds (soaked for 5mins in 200ml water)
1 large browning banana
1 tbsp Agave Nectar
60 mls Rude Health Rice or Almond milk (have on standby as may not need it)
120g  Rice flour
150g  Ground Almonds
120g  CrazyJacks (or other organic) desiccated coconut
50g  broken pieces of pecans
1 tsp pure Stevia
1 tsp Baking soda
1/3 block of Green & Blacks dark cooking chocolate chopped into small chunks
METHOD:
1. Pre-heat the oven to180C (or 160C if fan oven)
2. Line a 20cm round cake tin with baking paper (only needs to be 2 inches up the sides)
3.Combine all dry ingredients (including chocolate chunks) in a mixing bowl and set aside
4. Mash banana into a liquidy paste – add agave and chia seeds, mix thoroughly.
5. Make a well in the dry mix and add the banana chia mix-fold in until all combined. At this point you may need to add the almond or rice milk if the banana mix was not liquid enough (all depends on size of banana). The mixture should be moist, but not so wet that it separates (you should be able to transfer the mix into the cake tin in one large round ball.
6. Using a spatula, spread the mix evenly over the baking paper (it will be 1-1.5 inches thick and doesn't need to be perfectly round. Once you are happy the mix is even, bake for 25mins. Once ready, the top should be a nice golden brown and have a little spring when pressed.
7. Allow to cool and then serve – I had this the other day with plain yogurt and berries – delish!