I have featured Ruth here before and talked about her goal to get into the size 12 leather trousers.
I hope you'll share my joy at Ruth achieving her goal.
Here's her updated testimonial.
"So tell me what you want, what you really, really want"
Well Gaynor didn't sing it , but that was one of her first questions to me!
So my best hopes for my B-Fit course with Gaynor? To feel like me again , to have energy, to be able to run again, to lose weight , feel toned and to fit into those size 12 leather jeans.
So here I am 10 months later, toned, 3 stone in weight lighter, full of energy, feeling like me (actually, better than that, a new me!) and yes, I feel great in those  leather jeans and have got my confidence back!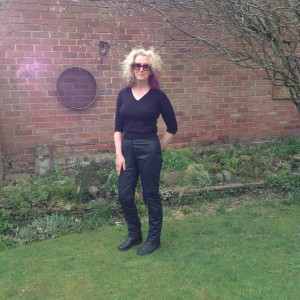 How? I eat so well now – no dieting, just great food. Exercise – yes,
regular high intensity, weights sessions at least three times a week , I'm back running and I will be able to do a 10 k this year and so important-good sleep and relaxation time.
Thanks Gaynor, my best hopes have happened (and more). Life's good! X"