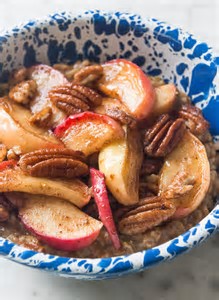 SPICED PUMPKIN PORRIDGE WITH CARAMELISED APPLES & PECANS
It's officially Autumn and that means squashes and pumpkins are in season. So why not celebrate the new season with this cosy, tasty porridge from Deliciously Ella?
This recipe which serves one is super quick and easy to make. The spiciness of the cinnamon, nutmeg and ginger are a perfect blend and match for the sweetness of the pumpkin puree.
Trust me, this is a must try recipe 😊
INGREDIENTS
Porridge:
80g oats
100ml brown rice milk
1 tsp vanilla powder
1 tsp cinnamon
½ tsp ground ginger
Sprinkle ground nutmeg
5 tbsp of pumpkin puree
2 tsp of coconut sugar
Toppings:
1 apple
1 tsp coconut oil
1 tsp maple syrup
1 tsp cinnamon
40g pecans
INSTRUCTIONS
Peel pumpkin, chop, steam 25 mins until soft
Puree pumpkin until smooth
Core and slice apple
Cook apples/pecans with coconut oil, maple, cinnamon 10 mins
Apples to be soft but holding shape
Place oats in saucepan with 200ml water and brown rice milk
Cook 4 mins stirring continuously
Add spices, pumpkin puree and coconut sugar and cook 1 min
When porridge cooked, spoon into bowl
Top with apples and pecans
Serve and enjoy