…especially if you are scared, have never tackled anything like this before.
What am I talking about? The moment my 10 year old daughter conquered her fears on a recent holiday (and how we all have fears, even in adulthood that we can overcome).
I have just been going through our holiday photos from the summer and regardless of my very awful green goggles (I wear contact lenses and there was no way I was losing them at the impact of hitting the water!) this photo makes me smile so much.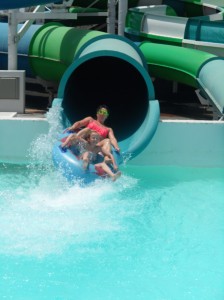 It was from our holiday in Lanzarote. We were at a water park and my daughter really wanted to ride the huge slide, but her initial excitement soon turned to fear when she saw the size of it. Especially because she's quite small for her age so that slide must have seemed like a mountain to her!
We had a couple of false starts at the top, where the fear seemed to take over. So we calmly waited to one side, letting her see others take the same journey and then, after some calming and encouraging words I offered got go down with her. She liked that. I would be a helping hand and to make sure she felt safe, encouraged and supported the whole way.
She really wanted to do it, but her FEAR was getting in the way. We've all been there.
Then, when she was ready it was time to take our spot at the top, wait for the green light and GO!
It was a bit of a crazy ride, with some hair raising moments at times, but she did it! She got to the end and she conquered her fear, with my help.
And it got me thinking. How this lesson in conquering fear from a 10 year old, is no different to many of the wonderful ladies I train and coach and help overcome their fear too.
If you choose to let it, fear can run your life, run your decisions, stop you doing what you want and need to do. It's OK to feel a bit of fear, it's what us humans ned to feel to survive and protect ourselves. But learning how to use that fear to your advantage is the key.
Is fear running your life? Ask yourself that question honestly. Are you afraid?
Common things people fear:
fear of failure
fear of success (honestly, this is real!)
fear of change
fear of the unknown
fear of what people might think or say
fear of being out of your comfort zone
fear of it being too difficult
fear of judgement
And many of the above apply to everyday people looking to lose weight, change their body shape, gain some confidence and self esteem, feel at their very best, change lifestyle and habits.
But, you choose how you react to fear. You can either let it rule you, or work with it, take the plunge, hold on and enjoy the ride!
Much like my daughter did at the waterpark.
I support all my clients, every step of the way on their journey, however long or short. This is how I get some incredible results and really change the lives of people for the better. I'm so grateful for the job I do and the changes I help ladies to make, that lead to a happier and healthier life.
Do you want me to help you face your fears and be with you every step of the way? Text me and we can arrange an informal chat in confidence and come up with a strategy to take the plunge, enjoy that ride and feel the exhilaration at the end when you achieve what you set out to do.
Text me on 07748 298728 or email gaynor@b-fit.uk.com
Gaynor x