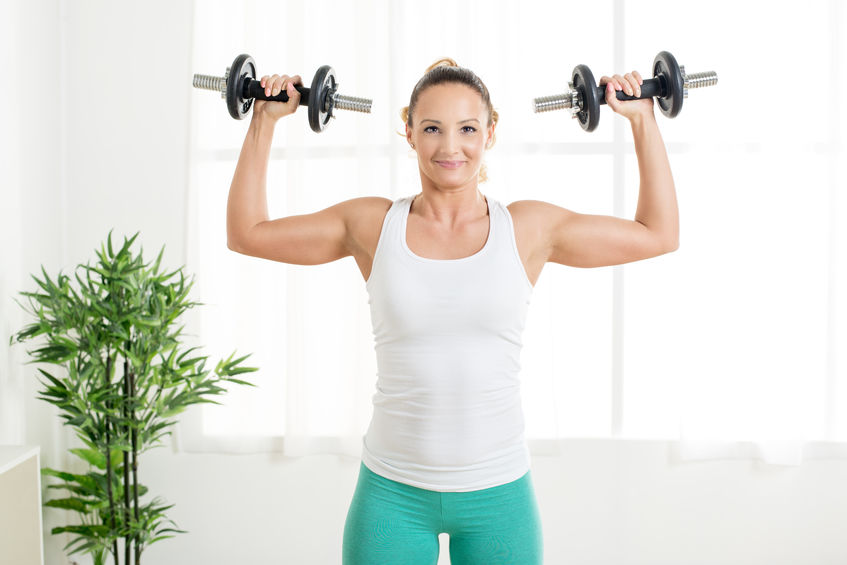 HOW TO BUILD STRONG TONED SHOULDERS
I love shoulder day. In my opinion, sculpted shoulders are absolutely beautiful on women and convey strength and athleticism.
Also, the shoulders are the widest part of the upper body and if you can fill them out a little more it has the added benefit of making your waist look smaller and helps to balance the lower body curves out.
All this workout requires is access to a set of dumbbells, and a willingness to really contract, feel the muscle and push hard.
With any shoulder workout it's important to make sure your workout hits all three parts of the shoulders: the anterior (front), lateral (side) and posterior (rear). But don't worry about this as I've got you fully covered in the below workout.
What is critical in this workout is that you stick to the rest periods. Shoulders are muscles that are partly made to move alot (they're a combination of fast and slow twitch muscle fibres), and the versatility of the shoulder joint means that to fully develop all the individual muscles within the entire shoulder means we need to utilise a variety of movements. But again I've got you covered on this in the below workout.
For now, less of this chit-chat. Go warm up and grab those dumbbells and let's get started.
Do the following exercises in order, sticking to the reps, sets and rest periods stipulated. To be clear you do A1 then straight into A2 and then straight into A3. Then and only then do you take a rest of 90-120 secs. Repeat this for a total of 4 sets.
If you're not sure how to do the exercise I've hyperlinked the exercise name to a video tutorial.
A1 SIDE LATERAL RAISES x 15 reps
A2 ARNOLD PRESS x 12 reps
A3 FRONT RAISES x 12 reps each side
If you really push hard on this workout your shoulders should feel fried. In a nice way of course!
Confused about how to break up your training for best results or need some inspiration? Why not book in for a FREE B-FIT SESSION? Just drop me a message using this link or email GAYNOR@B-FIT.UK.COM
Catch you soon.
Love Gaynor x