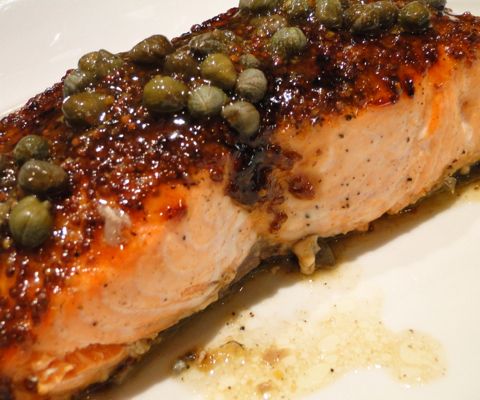 2 HEALTHY MOUTH WATERING RECIPES
You know I'm all about ditching the gimmicky diets that will leave you feeling hungry and on edge. Bottom line they're not good for your long-term health and they're certainly not sustainable. I'm all about satisfying our stomach and tantalizing our taste buds, whilst also helping you burn body fat, get lean and feel incredible.
So here's two delicious dishes that do just that and will make you feel fuller, for longer. Give them a try and let me know what you think.
---
WINE POACHED SALMON WITH MUSTARD & BROWN SUGAR GLAZE – SERVES 3
INGREDIENTS
1/3 cup dry white wine
1 tbsp butter (optional)
1/2 tsp mixed herbs and spices
Crushed red pepper flakes to taste
1 lb centre cut fresh salmon
3 tbsp whole grain mustard
1/8 cup coconut sugar or maple syrup (optional)
1 tbsp capers
INSTRUCTIONS
Heat oven to 350 F
Bring wine, butter, herbs/spices, pepper flakes to boil in a pan
Boil for 2-3 mins
Put salmon in a small baking dish
Pour hot wine mixture over salmon, bake until done
Time varies depending on salmon thickness
Allow 10 mins for each inch of thickness
In a bowl whisk mustard and brown sugar together
When fish is done, remove from oven
Turn grill on high, set rack 6 inches from heat
Spoon mustard and sugar glaze over fish
Place under grill for 3-5 mins until glaze is bubbly
Remove from grill, spoon capers over fish
Serve with baby potatoes and fresh greens
---
PRIMAVERA STUFFED CHICKEN – SERVES 2
 
INGREDIENTS
2 boneless skinless chicken breasts
1 tbsp olive oil
Himalayan salt
Freshly ground black pepper
1/2 tsp italian seasoning
1/2 courgette, halved and thinly sliced into half moons
1.5 medium tomatoes, halved and thinly sliced into rounds
1 yellow pepper, thinly sliced
1/4 red onion, thinly sliced
1/2 cup shredded mozzarella
INSTRUCTIONS
Heat oven to 400ºF
Cut 5 slits in each breast, but do not cut through completely
Drizzle oil over chicken
Season with salt, pepper, and italian seasoning
Stuff each breast with courgette, tomato, pepper, and red onion
Sprinkle each chicken breast with mozzarella
Bake 25 mins until chicken cooked through and no longer pink