Want the quickest weight loss plan known to (wo)man?
Looking for a miracle?
Well, I'm sorry to be the bearer of bad news but the truth is, there isn't one.
Listening to ladies everywhere at the moment at this time of year makes me feel so sad and frustrated for them. They're all just looking for miracles.
This week alone I've heard chats about ketone pills, slimming aids, 28 day juice fasts, meal replacement shakes, a piece of equipment that can melt away tummy fat (apparently it is agony for days afterwards… no thank you!), drinking lemon and cayenne pepper, high fat diets, low fat diets, no carb diets… the list just goes on! Try it yourself, stand in any health food shop or around the vitamin aisles in the supermarkets and watch people gravitate towards these well marketed miracles and listen to the conversations.
Do you want to know THE TRUTH?
There is no miracle cure. Because many of these so called slimming and weight loss aids are actually processed, chemical filled, laden with sugar and salt 'fillers'  which the body simply cannot process. It is the complete opposite of what your body needs! These chemicals leave you feeling sluggish, slowing your metabolism, cause high blood pressure and potential heart disease. Basically the ingredients of these so called miracles are effectively toxins in your body.
And what do toxins equal? (If you've trained with me before you'll know this answer…) they equal FAT. body fat. Fat that is stubborn and hard to get rid of.
When your body is overloaded with toxins, it goes into a defence mode and to protect itself, it stores the toxins in fat.
So, you could use one of these miracle weight loss cures and get some results really quick, BUT you won't be getting rid of the original cause – the toxins which are stored in the fat cells! So you will just end up back where you started and hence the years of yo-yo weight loss and diet trap misery will follow.
The B-Fit Way
Now my cure is not instant, and it isn't a miracle but it does work, with great success and long lasting results and it does promise GUARANTEED weight loss or dropping of a dress size in just 21 days or your money back. It is of course my B-Fit, B-Fabulous 21 Day Weight Loss Plan.
Here's what B-Fit client Gemma had to say;
"I'll admit I've been one of those who was always looking for a quick fix miracle cure. I can probably tick all of the above as having tried (and failed) at keeping the weight down and the muffin top from getting out of control.
I first did Gaynor's B-Fit B-Fabulous 21 Day Weight Loss Plan about 18 months ago and could not believe the results in just two weeks, never mind three. My bloating all but disappeared, my energy levels were through the roof, I slept better and most importantly I had much more energy.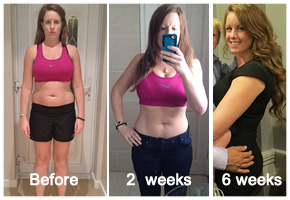 I love the fact that the Nature's Sunshine supplements on the plan are all organic and natural. I can really see a difference and loved the coaching to show me exactly why toxins cause additional fat stores. That visual explanation has stayed with me ever since and was so valuable!
I have used the plan (or "the detox" as I call it) every six months or so to give my body what I like to refer to as a MOT and keep those toxins at bay. You won't be disappointed!"
£50 B-Fit voucher when you refer 2 friends
As a free gift to you, if you recommend two friends who purchase my B-Fit B-Fabulous 21 Day Plan, I'll give you a £50 B-Fit voucher to spend on any B-Fit nutrition, exercise or Nature's Sunshine products.
Text me 07748 298728 for more information or email gaynor@www.b-fit.uk.com