Ok hopefully we are fully on track! Sugar is off the menu along with processed foods, and real food is back in for 90% of your meals.
So here's this weeks delicious  easy , quick and totally nutritious recipe to help you along the way!
This one is for breakfast (or any time really!).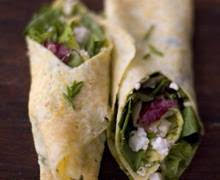 Skinny Omelette Wraps
 (Adapted from BBC Good Food) Time: 20mins
Serves 1
INGREDIENTS
2 large (preferably organic) eggs
A pinch of  pink himalyan sea salt
A few tablespoons of chopped chives
A dollop of pesto
Protein of choice (chicken, tuna, salmon or feta)
A handful of mixed salad greens
INSTRUCTIONS
Use a fork to beat the eggs and salt in a small bowl.
In a large frying pan, heat a tsp of coconut butter. Pour in the egg mixture and give it a good swirl so that they spread out thinly across the entire pan. Sprinkle the eggs with some of the chives and let them set.
Run a spatula underneath the omelette and slide it out of the pan on to a clean surface.
Spread the pesto across the surface of the omelette and then fill with your protein and salad greens.
Starting with one end, roll the omelette away from you. Cut in half on a deep diagonal.
RELAX  and enjoy !