Ruth Dark came to me wanting to lose weight and get fit. At the start I asked Ruth what her best hopes were, and she said "To fit into my size 12 leather jeans again!" And so her journey began…
Ruth started on my 7 Step Plan where she cleared her cupboards, got hold of the right ingredients and got to grips with all the right recipes. Immediately the pounds started to drop off!
She then completed my B-Fit B-Fabulous 21 Day Weight Loss Plan, which produced dramatic results! "After the detox I was so thrilled that I had lost over a stone and a half, and a total of 49.5 cm!" says Ruth. "Plus my muscle tone had dramatically increased!"
By April 2015, Ruth had lost a whopping 3 stone!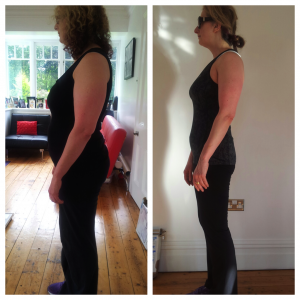 "My best hopes for my B-Fit course with Gaynor was to feel like me again," says Ruth. "I wanted to have energy, to be able to run again, to lose weight, feel toned and to fit into the size 12 leather jeans!"
"So here I am, 3 stone in weight lighter, full of energy, feeling like me (actually better than that, a new me!) and yes I feel great in those leather jeans, and have got my confidence back!"
Watch Ruth talk about her journey in the video below:
So how does Ruth maintain her amazing weight loss?
"I eat so well now!" she says. "No dieting, just great food. I do regular, high intensity exercises, weight sessions at least three times a week, I'm back running and I will be able to do a 10K. And, importantly, I am getting good sleep and relaxation time!"
For a FREE confidential chat, arrange a one to one confidential B-Fit talk with me.
Call or text me on 07748 298728 or email gaynor@www.b-fit.uk.com