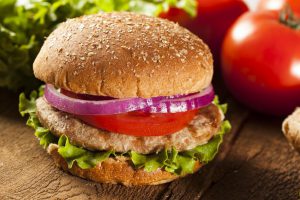 We're well into BBQ season with this lovely weather at the moment. Make sure your burgers pack a nutritious punch with this easy, fab recipe.
Tarragon Turkey Burgers
450g minced turkey breast
Olive oil on hand / organic butter
1⁄2 cup grated courgette
1⁄4 cup chopped red onion
1 Tablespoon of fresh or dried tarragon leaves
1cm thick round slices of butter nut squash (1  slice per burger- optional topping )
Organic cranberry sauce
1cm thick round slices of aubergine ( optional topping for burger )
2tsp Dijon mustard
1⁄2 tsp vegetable seasoning (Oxo cube)
Celtic sea salt
3 grinds of black pepper
2 large free-range / organic eggs
1. Preheat oven to 180C. In a saucepan of boiling water, blanch the aubergine slices for up to 1 minute. Remove from water, lay on a baking tray (greased with organic butter or baking paper. Brush both sides with olive oil generously and season with Celtic sea salt and pepper. Bake in the oven until soft and brown around 10-15minutes, turning half way.
2. In a mixing bowl, combine turkey mince with courgette, onion, tarragon, mustard, seasoning (or salt) and eggs. Mix thoroughly.
3. Shape into patties and grill in the oven (once aubergine has been removed) until cooked.
4. Steam the squash slices until soft all the way through – do not allow to go soggy, as they need to keep their form.
5. Stack from bottom up, squash, aubergine followed by burger and cranberry sauce, serve with a generous serving of salad including lots of leaves.
This recipe features in my B-Fit B-Fabulous 21 Day Weight Loss Plan. Click here for more information on my foolproof plan that guarantees a 8-14lb weight loss or to drop a dress size in 21 days.