Lesley has had a fantastic start on her B-Fit journey! Having lost 13lbs in just 8 weeks, Lesley is well on her way to achieving her health and wellbeing goals.
Lesley started on the B-Fit group personal training course and gave herself a head start before the course had even started, by simply following the principles set out in the B-Fit 7 Step Guide. 7 weeks of group personal training followed and Lesley is about to embark on the B-Fit B-Fabulous 21 Day Weight Loss Plan so look out for her detox diary coming soon.
Lesley says about her B-Fit journey so far;
"I had been trying for a long time to lose some weight. I had tried many different diets and would lose a bit and get so far, get stuck at a certain weight and then it would go back on after.  I have always tried to exercise but lately realised that I wasn't doing enough of the "right exercise". I wanted to get into healthy eating but I didn't know where to start. Then I googled personal trainers in Formby and Gaynor's site appeared. After chatting to Gaynor, I booked onto the B-Fit group Pt Course.
Just before the group personal training started, I went on holiday and Gaynor gave me her B-Fit 7 Step Plan book to peruse. On holiday I ate all the right things and increased my exercise. My sugar cravings went immediately and I never felt hungry at all. I felt great too! By the time I got to the B-Fit Group personal training course I had already lost 5lbs in two weeks  just following Gaynors B-Fit  7 step plan! I enjoyed trying Gaynors recipes and loved knowing what to eat rather than always wondering and feeling guilty. 
The group personal training sessions have been brilliant! The exercises are fun and hard work but worth it and I could feel myself being able to do more each week and getting fitter. With Gaynor's guidance I also started to do additional exercise at home 3 or 4 times a week including cycling, swimming and walking/jogging. I started skipping and hoola hooping too. By the end of my first 5 week  course, I had lost another 5lb. I lost inches too , my clothes were too big and my first goal achieved. 
I'm now on my second group personal training course and my weight is decreasing every week. I have lost a total of 13lbs in 8 weeks and this is the lightest I have been in 14 years!
I have never felt better and I cannot thank Gaynor enough. I am soon to start Gaynor's B-Fit B-Fabulous 21 Day Weight Loss Plan/detox so I will let you know how it goes!
Thank you Gaynor for all your guidance and help, I would never have thought that 8 short weeks would bring about so many changes in me. I feel amazing!"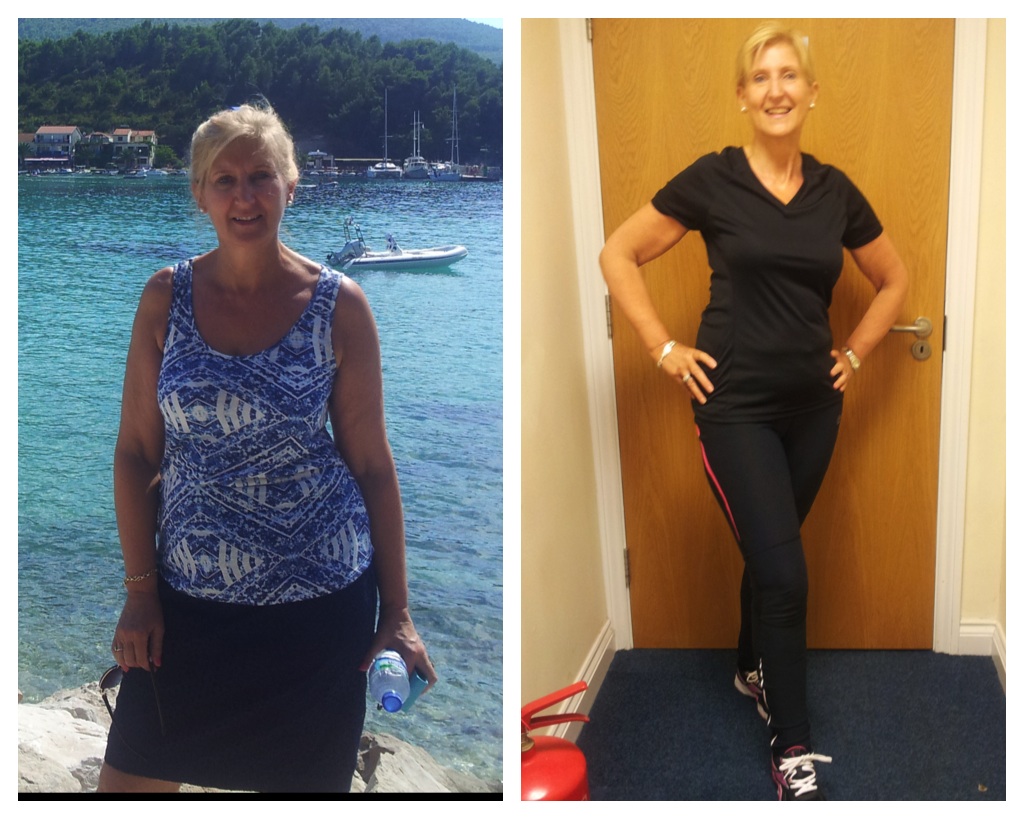 If you too want to look and feel like Lesley get in touch! Talk to me in confidence about your health and wellbeing goals. Book a FREE session with me today! (Places limited) Email me gaynor@www.b-fit.uk.com or call 07748 298728.