This nutritious warming soup is perfect for these long, dark winter days.
It is filling, full of flavour and packed full of nutrients and contains a whopping 50% of your daily recommended fibre intake! Go on, give it a go!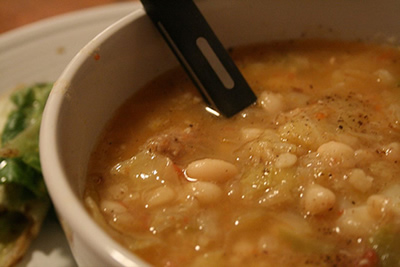 INGREDIENTS

1 medium onion, chopped
2 stalks celery, chopped
4 cloves garlic, chopped
3 cups (680g) chopped tomatoes
6 cups (900g) tinned cannelini beans
5 cups (1.25L) water
1/2 tsp (3g) Himalayan Salt
Freshly ground pepper, to taste
1 cup (75g) spelt pasta shells, or other small pasta shape
1/4 cup (9g) fresh basil leaves, coarsely chopped
INSTRUCTIONS
Steam fry the onions, celery, and garlic until tender. Do this in a few spoons of water in a large pan.
Once it is all tender, add the chopped tomatoes and warm over a medium to low heat, breaking up the tomatoes so that breaks down in nice small chunks. Cook this all together for about fifteen to twenty minutes.
Add the cannelini beans, water, salt, pepper and cook over a medium-low heat for another twenty minutes.
Add the spelt pasta and cook for another ten minutes until it is al dente.
Once the soup has cooled a little bit, add the basil leaves.