Fish pies are always a winner! Full of protein, nutrients and of course they are delicious and filling!
This recipe was recommended by one of my lovely B-Fit clients, Amanda Bowman. I hope you enjoy it!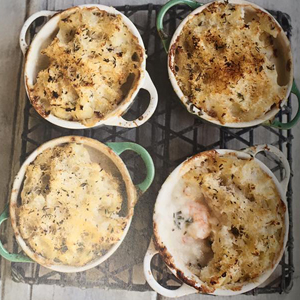 INGREDIENTS
One tin of coconut milk (400 ml)
1 tbsp garlic-infused olive oil
Juice and zest of 1 lemon
2 bay leaves
2 cod fillets (150g each)
Undyed smoked haddock (300g)
A splash of white wine (optional!)
Sea salt and freshly ground pepper
1 large celeriac, peeled and chopped into chunks
2 sprigs of fresh thyme
1 1/2 tbsp unflavoured coconut butter
150g raw king prawns
3 Spring onions (green parts only, thinly sliced)
A small handful of fresh chives, chopped
1 tbsp chopped  fresh parsley to serve
INSTRUCTIONS
Put the coconut milk, garlic oil, lemon juice and zest and bay leaves into a large deep pan.
Add the cod and haddock and bring to a gentle simmer. Poach the fish for around 10 minutes until the flesh flakes easily.
Remove the fillets and set aside.
Add the wine (if using) to the poaching liquid, season to taste with salt and pepper and leave to simmer over a low heat while you make the celeriac mash.
Preheat the oven to 200 Degrees C/180 Degrees C Fan / Gas mark 6.
Put the celeriac into a pan of boiling water and boil with the thyme leaves until tender.
Drain and mash with the coconut butter, and season with salt and pepper.
Flake the fish and divide between four individual ovenproof dishes (or you can use one big dish).
Add the prawns, spring onions and chives to each pot and pour over one quarter of the poaching liquid – it should hvae thickened slightly by now.
Top with celeriac mash and bake for 40 to 50 minutes, or until the pies are golden on top.
Scatter with chopped fresh parsley and serve.