**** UPDATED DEC 2015 PICS AT THE BOTTOM ****Clare Watson is a B-Fit Platinum PT/Nutrition Course client who has trained with me twice a week and has completed my B-Fit B-Fabulous 21 Day Weight Loss Plan. She is a very busy lady, working sessions round her family life, demanding full time job and traveling.
I'm so thrilled for Clare who has worked hard and made some simple changes to lose 3.5 stone and 73cm from all the right places.
Clare's not at her long term goal yet, but im confident she will get there with my help as she is doing really well so far and has just made healthy eating and the right exercise a normal way of life now. I'm so proud of her!
Five things Clare has done to help her progress
1) Breakfast is a MUST
There's no skipping breakfast anymore for Clare. She makes sure she has something super healthy to kick start her metabolism first thing in the morning.
2) No more calorie counting!
Clare's stopped counting calories and now counts nutrients. All fad diets have been ditched and 'eating a rainbow' has become a way of life.
3) No more snacking on rubbish
With no more calorie counting and getting adequate nutrients the new focus, Clare's cravings have gone. That means no more snacking on rubbish in between meals.
4) Introduced supplements
Clare has incorporated a few good quality supplements to help fill in any nutrient gaps in her diet, especially as she is on the go with her demanding and busy lifestyle. Clare's added Nature's Sunshine Liquid Chlorophyll to cleanse, Pea Protein Plus to prevent cravings and Super Omega supplements to help with brain function and fat loss.
5) Made exercise a part of life
Clare trains with my twice a week and as someone who has completed my B-Fit B-Fabulous 21 Day Weight Loss Plan, has access to my home workout videos which can be completed at home. With Clare being a busy person, this has helped exercise be introduced into her weekly routine at a time that suits.
What did Clare have to say?
"I am married with two children and work full time.  I joined B-Fit at 
the end of October last year when my weight had got to such a point that I didn't know what to do.  I had lost my confidence and my sense of who I was.  My weight had ballooned since having the children and I had done most of the diets over the years, all with initial positive results but none of them really changing my approach to food or my fitness levels.
Since starting B-Fit 6 months ago, I have lost over three stone and dropped four sizes on my top and three on the bottom which I am thrilled about. I feel more confident, have lowered my blood pressure, am able to be active with my family and an feeling more feminine (recently wearing a dress and tights something I had been avoiding for a long time!).
I have followed the B-Fit eating plan and enjoy the fitness sessions 
which has surprised me.  I am really looking  forward to achieving my 
next set of goals."
Well done Clare! I'm so proud of you!
*** UPDATE ***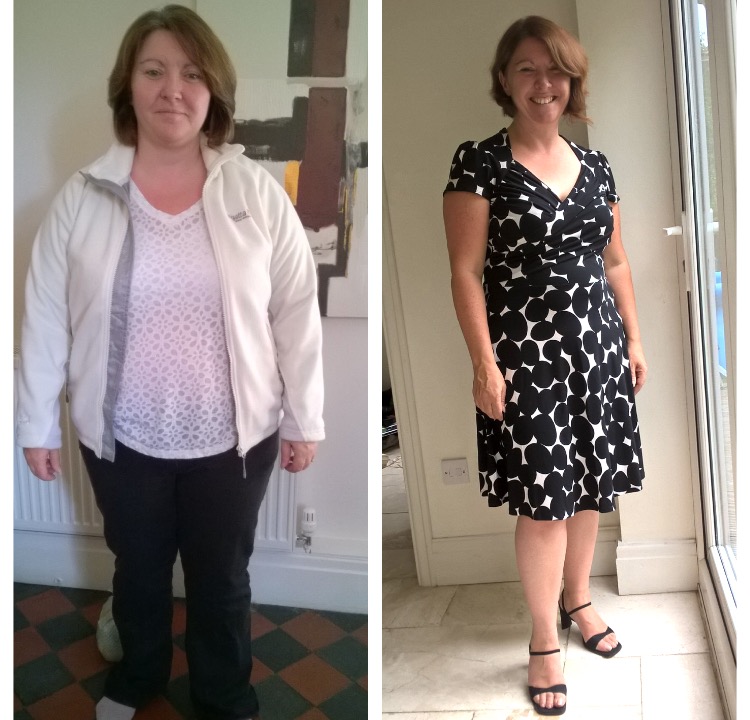 I just had to share Claire's amazing progress with you. It's now December and she's lost over 4 stone and 4 dress sizes. Claire really did achieve so much in 2015. It's not too late for you to do the same and make a start now. Contact me for your FREE confidential chat today. I'll share with you more hint and tips on how you too can achieve great results like Claire. Text me in confidence 07748 298728