Have you ever looked up the word 'holiday' in the dictionary?
holiday |ˈhɒlɪdeɪ, -di| 
an extended period of leisure, recreation and relaxation, especially one spent away from home or in travelling
Do your holidays match this? Ones of relaxation? A time to recharge your batteries? Or do you attack the all inclusive bars and buffets like we're about to enter the apocalypse and come home bloated, exhausted and feeling like you need another holiday to get over the holiday!?
A detox on holiday
I've just got back from a wonderful family holiday in Turkey. My husband thinks im bonkers as I decided to do a detox (aka my B-Fit B-Fabulous 21 Day Weight Loss Plan) WHILST ON HOLIDAY!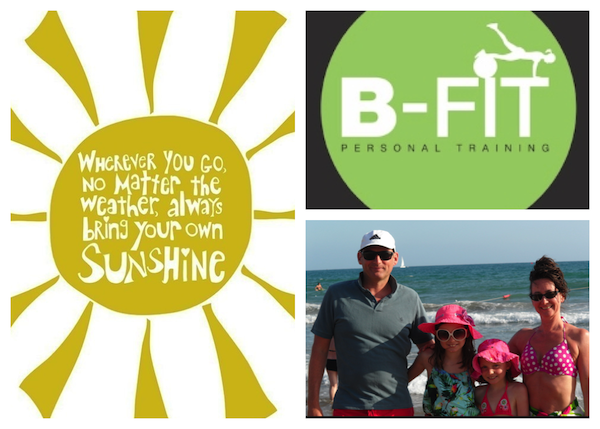 So he spent the week pigging out on kebabs and drinking his body weight in lager whilst I abstained from alcohol, exercised my body and most importantly took some well needed mental rest and relaxation.
I came back feeling AMAZING. I've been so busy with work and family recently that I haven't been practising what I preach and my exercise routine went out of the window, along with not eating as well as usual.
I took the opportunity to treat my  family holiday as a well needed health retreat to get me back on the BFIT BFABULOUS TRACK!
Top Tips for Beating the Holiday Bulge
Heres what I did/ my top tips for beating the holiday bulge:
I swapped drinking wine with  lunch and dinner for drinking fresh mint tea and tons of water with liquid chlorophyll which is great for cleansing toxins out of the body ( toxins are stored in fat – so if you get rid of toxins you get rid of fat!) – IT also meant I didn't get eaten by mozzies as they hate mint and liquid chlorophyll also contains natural mint!!
I was in bed for 10.30 most nights caught up on my sleep!
Exercised every morning listening to my favourite feel good music before breakfast
I went for a jog along the beach, did my anti ageing yoga exercises and did 25 minutes B-fit styley weights in the gym (AS PER  THE EXERCISE VIDEOS IN MY BFIT BFAB 21 DAY WEIGHTLOSS PLAN)… in barefeet as I forgot my trainers!!
I played with my gorgeous daughters lots in the sea and swam every day
I joined in the hotel beach volley ball, water polo and water aerobics
The hotel food was amazing – so I rammed my body with a ton of nutrients- amazing salads,vegetable dishes ,fruit, seafood, chicken ,coconut, almonds and plant proteins such as lentils / beans  etc and followed the principles of my B-FIT B-FAB 21 day weight loss plan. I NEVER ONCE FELT DEPRIVED OR CRAVED ANYTHING  and I enjoyed every bit!!

I made myself a B-Fit cocktail everyday with a glug of zambrosa ( my favourite anti ageing drink), coconut water (to replace the electrolytes lost from the heat and exercise), Aloe Vera Juice (a great anti inflammatory and perfect for making you more alkaline)

I treated myself to massages and facials in the spa (along with  my husband!) and gave the detox process a helping hand in the turkish baths sauna and steam room by sweating out the toxins that were being released from my detox program (STEP NO 7 OF MY BFIT BFAB PLAN IS REWARD, REST AND RECOVER!!)
I wrote a  grateful journal every day- ie a list of everything i'm really grateful for/ that's wonderful in my life – eg my  two gorgeous daughters and my wonderful husband etc This is  great for increasing your happy thoughts and generally making you feel fantastic!!
It has honestly been the BEST holiday I've ever been on. I didn't miss the booze as I had a happy clear head every day. I wasn't bloated from overeating and I had a truly magical time with my beautiful family. I cannot recommend this way of approaching a holiday enough!
I'm ready for anything now!