Want to lose fat and a dress size GUARANTEED in 3 weeks?

With a wave of my wand I can help you lose weight, tone up, burn fat and feel fabulous!
All I need is YOU and a commitment to implement some of my magic to help you be in the BEST shape of your life!
I've recently launched my NEW B-Fit, B-Fabulous 21 Day Weight Loss Plan. This is a weight loss plan with GUARANTEED results (or your *money back!). You can expect to lose a 8-14lbs or a dress size when you follow my foolproof plan to rid excess toxins from the body and therefore excess fat.
How do I know I need to detox?

Take a look at the video below (and keep watching to the end to claim your FREE gift worth £60!).


Excess toxins in the body are stored over long periods of time thanks to our increased exposure to toxins in everyday life. We are bombarded with toxins from our food sources, (eg alcohol,artificial additives, sugar, aspartame/artificial sweeteners in "diet" products) environmental sources (pollution etc) and from household products and toiletries we use in our homes and on our bodies. Toxins are stored in fat cells.
The B-Fit, B-Fabulous 21 Day Weight Loss Plan includes:
How to enjoy the right foods for life – WITHOUT counting calories!
Teach you how to do the right exercise, at home, for maximum results (without spending hours in the gym!)
21 days of delicious recipes and meal plans
Weekly shopping lists
Weekly exercise videos
Weekly online nutrition and lifestyle coaching sessions
Nature's Sunshine Healthy Starter Detox Kit (containing active organic herbal cleansing botanical supplements to really shift toxins from the body and unwanted fat!)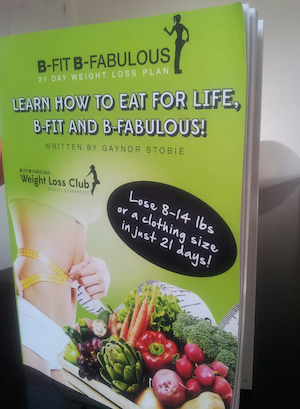 Read the B-Fit 

Testimonials!

"Gaynor! Thank you so so much! Just wanted to send you this pic to show you my progress. THANK YOU for making me take the 'before' pics. I can't believe the difference. No bloat, no hunger, no cravings. I'm happy, I feel amazing, my stress levels have gone down and I can't wait to see what I'll look like at 21 days! I'm so excited! Thank you so much for getting me out of this rut. I owe you big time! Can't wait til our next session."

Mrs Ray, B-Fit client on the B-Fit B-Fabulous 21 Day Weight Loss Plan

Others who have had fantastic success with the plan:
Get in touch!
Find out more about the B-Fit B-Fabulous 21 day Weight Loss Plan.
Email me gaynor@www.b-fit.uk.com or call/text 07748 298 728 to chat through your weight loss goals and how to kick start them with this plan.